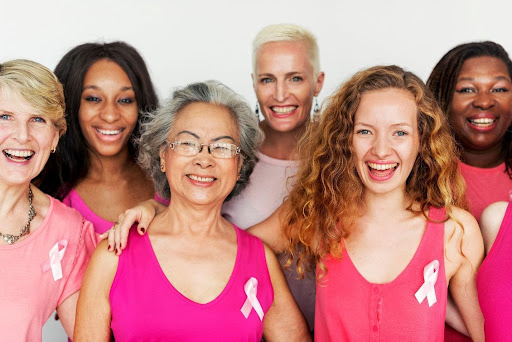 Understanding Breast Cancer
According to the American Cancer Society, nearly 13 percent of women in the United States will develop breast cancer. It's the most common cancer-related cause of death in women behind lung cancer, which is why October celebrates Breast Cancer Awareness. It's a time for women and men to educate themselves about breast cancer and take steps toward preventing it.
What is Breast Cancer?
Breast cancer is when cancer cells form in the breast. It's one of the most common cancers for women in the United States, and in rare cases, can also develop in men. There are several types of breast cancer based on where and how cancer grows in the breast. Common signs and symptoms of breast cancer include the development of a lump or tumor in the breast, changes to the appearance of the breast or the skin of the breast, and a newly inverted nipple.
In most cases starts in the breast ducts responsible for creating milk or, in the lobules, breast tissue. The exact cause of breast cancer is complicated, but doctors have identified genetic and lifestyle risk factors that increase a person's chances of developing breast cancer. It's estimated that half of all breast cancer cases are linked to gene mutations, the most common of which is the BRACA1 and BRACA2 genes. If you have a strong family history of breast cancer or ovarian cancer, talk to your doctor about getting a genetic test to see if you carry the gene. Additional risk factors include women who are 55 and older, obesity, radiation exposure, excessive alcohol use, having never been pregnant, or having a first child after the age of 30.
Diagnosing and Treating Breast Cancer
If you or your doctor suspects breast cancer, one of the first steps is a breast exam followed by a mammogram. If the doctor finds any abnormalities in either exam, they will often perform a biopsy. A biopsy is when a small sample of the suspicious tissue is extracted from the breast, and the sample is then examined to determine if it is cancerous.
If it is determined that you have breast cancer, the doctor may perform additional tests to determine the stage of cancer. Those tests may include blood tests, MRI, CT scans, or a PET scan. Once the doctor understands the severity of cancer, they'll provide information on treatment options. Some standard treatment options include surgery to remove cancer, chemotherapy, hormone therapy, and radiation therapy.
Preventing Breast Cancer
You can't completely prevent yourself from developing breast cancer, but there are steps you can take to reduce your chances.
Get regular breast exams and screenings. Like most cancers, the earlier your doctor can detect breast cancer, the greater the chance of treating it. Talk to your doctor about scheduling regular exams and screenings, such as annual mammograms.
Understand your family history and genetics. Genetics plays a significant role in the development of breast cancer. Talk to your family to learn if there is a history of breast cancer or ovarian cancer. If there is, you may want your doctor to refer you to a genetics counselor to see if you carry any genetic mutations linked to breast cancer. If you have a genetic mutation, preventative surgeries and treatments are available to reduce your risks considerably.
Make lifestyle changes. Lifestyle choices that increase the risk of breast cancer include excessive alcohol use and obesity. Consider cutting down on the amount of alcohol you drink and try to eat a healthy diet and exercise regularly to maintain a healthy weight.
How Visiting Angels Can Help
If you or an aging loved one is living with breast cancer and needs help caring for themselves at home, the team at Visiting Angels Grand Junction is available to help. Our compassionate caregivers provide a range of at-home services for seniors, including meal preparations, light housekeeping, personal grooming, mobility assistance, medication reminders, and transportation to doctor's appointments. Our Grand Junction office serves those in Mesa Country, Co. If you'd like to learn more about our services, you can complete this online form or call us at 970.254.8888.