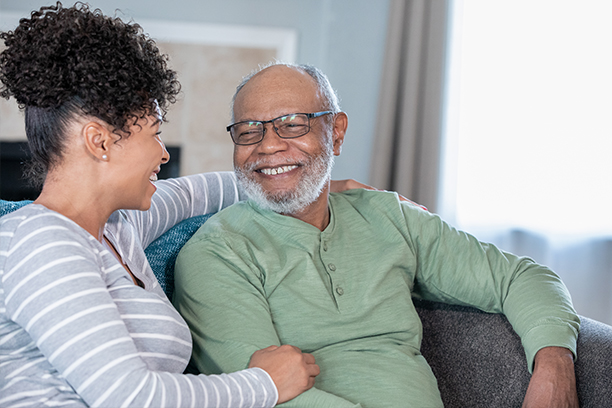 Honey, Your Parents Are Moving In!
Many of us have had friend, relatives and co-workers who are suddenly faced with the possibility of having to move their parents or in-laws into their home. This often happens without warning due to a health event or a fall. Having had my own elderly in-laws live with my husband and me for 5½ years, and working as the Executive Director (and owner) of Visiting Angels Living Assistance, I have gained a wealth of experience in this area.
The most important thing to remember is your parents are still your parents. I have heard the term "Parenting a Parent." I cringe every time. What is happening when we care for our parents is we are "Honoring our Parents." There are certainly some role reversals involved, but, it is important to remember they are your parents.
So, what is the best way to handle the transition of having another full-time person living in your home? Will you add an addition to your house? Who will pay for what? How can you reconfigure your existing living space to accommodate another person or two? Will mom's furniture fit in the space you've allotted her? What about the last 60 years of precious collectibles or all of dad's tools? When my in-laws moved in with us, they brought enough out-dated food to feed a small country, enough plastic wrap to wrap the house, and Dad had 18 of every tool known to man! Okay let's breathe together…The questions do seem endless and you need a good adviser.
What is most helpful is to make a plan and put it in writing. Try to involve your siblings, a pastor and/or an attorney. I can tell you that the vision we had of our family was very different than the vision my in-laws had. Which part of the house will be your private space? (Trust me you need this!) Which will be Mom and Dad's private space? Address finances in the plan. Your utility, grocery and transportation costs will increase. You may have to make modifications to your home, from as simple as grab bars to a full remodel. Often the flooring will need to be replaced to accommodate a walker or wheelchair. And, believe me, seniors need their own bathroom.
Do you still have your own children at home? That brings up a whole new list of questions. Parenting methods vary from one generation to another. How many "bosses" do your children need? Who's giving up a bedroom? Who gets the remote control? Try fixing dinner every night for 3 generations. Grandma thinks food should be cooked from scratch, you want to bring home a roasted chicken from Sam's and the kids want a pizza. Who does the laundry? Who drives the car? Who picks the movie? OH MY…one more time… let's breathe deep together.
You will likely need help in caring for Mom or Dad. You may not need help in the beginning but eventually down the road. Some families are blessed to have enough family members to share the responsibility. At other times, it may be your sole responsibility to manage the care of Mom or Dad (or both); and, if you work you may require the use of an outside agency. Visiting Angels can assist you with this care. If your parent has dementia, Senior Daybreak is a good option for day care. Include these options in your plan in advance and it will take the pressure off of both you and your parents. Conversations go smoother if they start with "Remember when we laid out our family plan? We covered this then."
Having a family member or parent move into your home is a choice of Love and Compassion. Don't set yourself up for failure by not addressing issues that could cause problems. I am happy to share our experience with you and/or your family. I am also an experienced public speaker, and I am happy to share the lessons I have learned with your organization. Good luck and remember…breathe.
Debbie Harrison is the Executive Director of Visiting Angels Home Care in Mesa County. Please contact Debbie if you would like to set up a speaking engagement for your organization or a personal family meeting. Her contact information is dharrison@visitingangels.com 970-254-8888 www.VisitingAngels.com/GrandJunction
Serving Grand Junction and Surrounding Areas
Visiting Angels
GRAND JUNCTION, CO
2809 Bunting Ave #B
Grand Junction, CO 81501
Phone: 970-254-8888
Fax: 970-241-3021