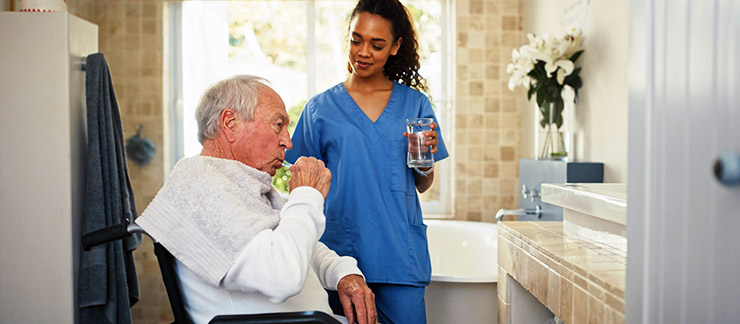 4 Tips to Help Seniors Practice Good Oral Hygiene
Is your senior loved one experiencing nagging dental problems such as cavities, toothaches, dry mouth, or receding gums? Do you notice they frequently have bad breath?
Yes, these issues can happen to us all from time to time. However, these issues can indicate your aging loved one is struggling with proper oral hygiene, especially if they are experiencing physical or cognitive decline.
Why Is Oral Hygiene Important for Seniors?
According to the U.S. Centers for Disease Control and Prevention, many retired adults 65 and older do not have dental insurance because Medicare does not cover routine dental care. As a result, some skip or avoid visiting the dentist—contributing to higher rates of cavities, tooth loss, darkened teeth, and periodontal disease.
Proper oral hygiene is crucial to maintain their quality of life. Here are a few tips to help seniors avoid dental issues:
Brush, floss, and use fluoride
Brushing and flossing teeth twice a day removes plaque and can prevent cavities. Experts recommend using fluoride toothpaste and drinking fluoridated water to strengthen teeth and reduce the risk of decay. An in-home caregiver can provide gentle reminders or assistance if your older adult has trouble remembering to brush, floss, or drink adequate amounts of fluoridated water.
Continue to visit the dentist
Even though your senior may need to pay out of pocket for dental care, it's important they receive routine dental cleanings and oral examinations. Dentists can check for tooth decay, remove plaque, administer fluoride treatments, and identify health concerns, including oral cancers.

Some dentists offer senior citizen discounts or group insurance plans to reduce the cost of dental care for older adults. If major dental work is required, your loved one's dentist may offer payment plans to spread the cost over several months or years. Community programs that offer affordable senior dental care may also be available in your area.

A Visiting Angels personal care provider can help your older adult schedule dentist visits, remind them of appointment days and times, and provide or arrange transportation.
Manage diet, chronic conditions, and dry mouth
In-home caregivers can help older adults follow diet recommendations from their dentist, including avoiding sweet, crunchy, hard, or sticky foods. A Visiting Angels' caregiver can also help individuals with chronic conditions such as diabetes — which can increase the risk of complications like gum disease — by reminding them to take medications and check blood sugar levels.

Dry mouth is a common side effect of certain medications that can increase the risk of cavities. If your senior's medications cause dry mouth, a caregiver can help relieve any discomfort by reminding them to drink plenty of water, chew sugarless gum if recommended, avoid tobacco products and alcohol, and brush and floss regularly.
Watch for signs of dental problems
Visiting Angels can oversee your loved one's oral health and let you know about any concerns. In addition to offering reminders and assistance with brushing and flossing, a caregiver can monitor for potential issues, such as ill-fitting dentures or dental appliances, excess tartar buildup, problems with chewing or swallowing, pain, or bothersome lumps or bumps in your loved one's mouth.
Professional Caregivers Can Help Seniors With Oral Hygiene Problems
If you notice problems with your loved one's oral hygiene, it may be time to consider hiring Visiting Angels to assist in their day-to-day care. Our local coordinators would be happy to meet with you and your loved one for a no-cost home care consultation to discuss specific needs and requests.