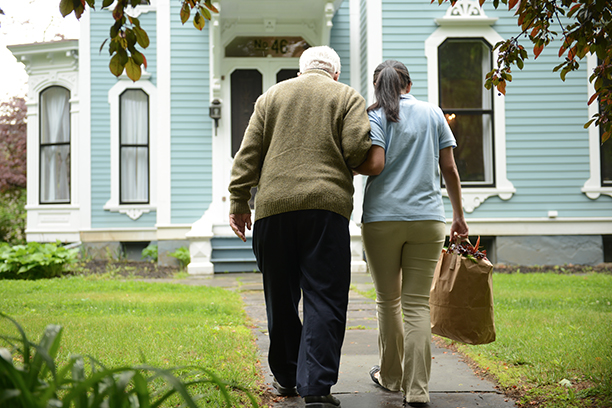 Home Care in Bridgeport Township, MI
In Michigan's Great Lakes Bay Region, Visiting Angels provide excellent home care in Bridgeport Township, Frankenmuth, Saginaw, Bay City, and the neighboring communities.

Visiting Angels Frankenmuth can assist you or a loved one in Bridgeport Township, MI, who needs one-on-one care. Visiting Angels is a senior home care provider who will come to your house in Bridgeport Township, MI, and offer you the support you need. Our caring caregivers are available to help you with your loved one's comfort.

Seeing a loved one struggle to make ends meet on their own is distressing. Simple tasks that individuals used to take for granted have become a daily struggle, whether owing to physical limitations brought on by age or cognitive issues like Alzheimer's disease. You may feel compelled to take on the position of family caregiver since the individual is a family member. Meeting their needs while still attempting to manage your own life, on the other hand, may be too difficult to sustain in the long run. Angels from Heaven Frankenmuth may be able to intercede and help you resolve your problem.

Seniors in Bridgeport Township, Michigan, may get specialized home care.
Instead of driving you to a care facility, we'll come to you. Visiting Angels recognize how vital it is for you to be able to remain in your own home as much as possible. Consequently, we're dedicated to making sure you can continue to do so for as long as possible. We recognize that everyone has different goals and challenges to conquer. When it comes to home care , we concentrate on your loved one's requirements and desires, ensuring that they are as comfortable as possible while getting help. When you give senior home care, you're providing someone who will treat your loved one with the greatest respect and maintenance, as if they were members of their own family.

To suit the demands of our customers, we provide a wide variety of home care services. Some of the living help services we provide are as follows:

Personal assistance at home
Treatment for Alzheimer's disease
Patients with dementia need special attention.
Palliative care
We can assist you in finding home care in Bridgeport Township, MI, for as little as a few hours a day to as much as 24 hours a day.

Getting Started with Frankenmuth Senior Care's Visiting Angels
If you're ready for some additional support, it's simple to book an introductory visit with Visiting Angels. Our care coordination team member will visit you at home to evaluate your requirements. We use the time you and your loved one spend with us to better understand you and your circumstances.

Visiting Angels will put you and your family in the hands of the caregiver most suited to your needs and preferences after a comprehensive evaluation of your situation.

Our goal is to provide you and your family with peace of mind by ensuring that your loved one receives the care they deserve at home. Visiting Angels Frankenmuth is dedicated to delivering the finest possible care for you and your family. If you'd like to schedule an initial consultation or learn more about our home care services, get in touch with us as soon as possible.
Serving the Great Lakes Bay Region in Michigan, including Frankenmuth, Saginaw, Bay City and surrounding areas
Visiting Angels
FRANKENMUTH, MI
527 N Franklin St #C
Frankenmuth, MI 48734
Phone: 989-652-6435
Fax: 989-652-6365