Would You LOVE to Make a Positive Impact on Someone's Life and Your Own? Join Our Nationally-Recognized Team Today!
Caregivers love to work for Visiting Angels! Here are a few reasons why:
Paid training and orientation
Benefits (Health Insurance is available after 90 days to Caregivers that work F/T – 30 hours/week)
Weekly pay with direct deposit (no timecards!)
Continuing education -- We provide customized, small class size educational classes with the Visiting Angel's owner, our staff, and other professionals from the healthcare community
Paid shadow training
Paid meet-and-greet with clients
Caregiver Recognition Incentive Program
Referral bonuses
Opportunities for advancement
Supportive office staff and management team that will be there for YOU!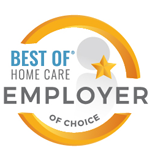 "I love working for Visiting Angels. They care about their caregivers. Every day is different with the many people we take care of. The best is the hugs our Clients give us, it's their way to say thank you for being here."
-Jacquie Q.
"I am very excited to be a part of the Angles Team! From the get go I have felt like I was part of a team not just an employee! I love my client and the flexibility I have with my schedule! I look forward to being with them for a long time!"
-Jerilynn D.
"From the beginning of the interview process to becoming an employee of Visiting Angels, I was impressed with the professionalism, caring and compassion attitude each of the managers and owners. I have been in the care giving business for over 30 years, but Visiting Angels stands out because of their honesty and approach ability. The managers dignify us by respect fully listening to our problems or concerns without making us feel bad no matter how small the issue is."
-Ruth W.
"I am presently employed with Visiting Angels what a amazing wonderful group to call your employers !! True caring and compassion its never easy to deal with the different aspects of aging they truly try and make it as much as family as you can without really being family. Keep up the great work, great communication and warm smiles & warm hearts !"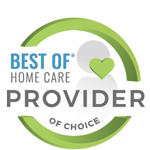 -Lisa W.
If you're interested in starting a rewarding career with a trusted, reliable home care agency, please apply to Visiting Angels Green Bay, WI today!