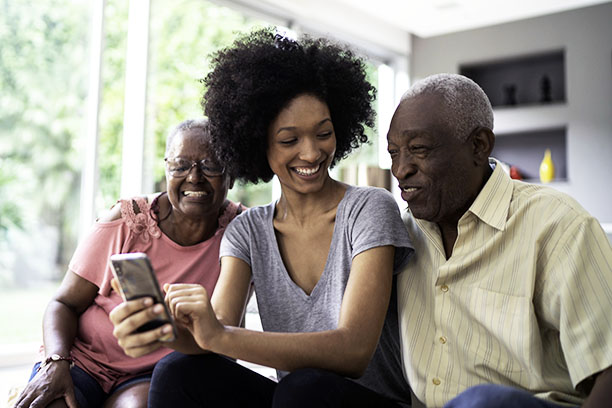 Elderly Assistance: Social Care for Seniors in Greensboro, NC
Visiting Angels Provides Elderly Assistance to Seniors in Greensboro, High Point, and Nearby Cities
As the years progress, technology advances at an incredible rate. One of the many benefits of technology, specifically the internet, is that it helps us better connect with the ones we love no matter where they are. For example, Facebook use among adults 65 and older has grown 14% in recent years. Seniors can use Facebook to connect with the lives of their children and grandchildren through their status updates, pictures of past events, and shared videos. Modern technology comes with many benefits that some seniors don't take advantage of. Becoming more social doesn't just improve a senior's mental health, but it improves their physical health as well.
The National Institute on Aging reports that there is a strong correlation between social interaction and overall health. For example, lonely people may have elevated systolic blood pressure. Social isolation may also be linked to elevated levels of interleukin-6, which is an inflammatory factor. Investing in your loved one's social skills will not only benefit them emotionally but physically as well.
Research About Seniors and Technology:
What Do We Teach in Social Care?
Greensboro seniors will learn about various fundamental skills to keep their technology use as beneficial as possible. For example, our elderly assistance professionals teach seniors how to utilize common smartphone features. Your loved one will learn how to make calls, text, and use the phone's video calling features. Also, an elderly assistance professional will teach your loved one how to surf the internet and research information.
Interested in learning more about how our elderly assistance programs can help your loved one? Call 336-665-5345 to schedule a free consultation.
Serving Greensboro, High Point, Winston-Salem and the Triad Area
Visiting Angels
GREENSBORO, NC
532 N Regional Rd #L
Greensboro, NC 27409
Phone: 336-665-5345
Fax: 336-880-5859