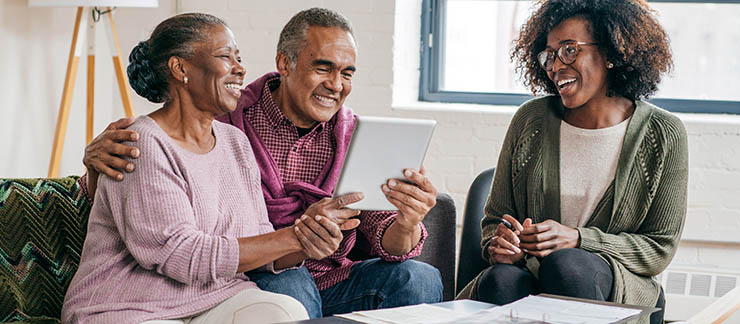 Respite Care Can Help Manage Family Caregiver Stress
Being a family caregiver for an older adult is a difficult job. While some aspects of caring for an elderly loved one can feel rewarding, it is a physically demanding and emotionally challenging task that can sometimes lead to feelings of anger, guilt, or frustration. These feelings are normal. Your everyday work, family, and self-care responsibilities don't just disappear because you're taking care of someone else, and the combined stress can take a toll on your mental and physical health.
When caring for a loved one, it may be hard to find time to take breaks. However, if you're a family caregiver, it's also important to take care of yourself to prevent "caregiver burnout" — a state of physical, mental, and emotional exhaustion that has been linked to a decline in overall health.
Respite care services provided by a professional, in-home caregiver can give you time to care for yourself while ensuring your loved one does not go without help.
How Can Respite Care Help?
Respite care is short-term caregiving relief for the primary family caregiver. Respite care can be scheduled for a few hours or a few weeks and may take place at home, at a health care facility, or even in an adult daycare center. Sources of respite care vary and may include professional organizations or community-based sources. Some long-term care insurance plans may entirely or partially cover the financial cost of respite care services.
Respite care provides benefits and advantages including:
Emotional and physical relief
Perhaps the most apparent benefit of respite care is that it allows caregivers to take time for themselves. Caring for someone 24/7 can be overwhelming, especially if you haven't had any professional training in caregiving. Physical, mental, and emotional fatigue can sneak up on you if you're not careful, and you may find yourself falling behind in your other responsibilities.

Taking advantage of respite care services will provide you with time to focus on your children, concentrate on your job, exercise and eat right, be social with your friends, catch up on your responsibilities, and do the things you enjoy.
An economical care alternative
Respite care is much more affordable than finding a permanent long-term caregiver or moving your elderly loved one into an assisted-living facility. Family and friends may be willing to help provide care, but if they are not available when you need additional support, short-term respite care services can be an affordable alternative.
A way to restore family relationships
When you're a primary caregiver, it is normal to deal with feelings of frustration, guilt, or anger. It's also normal for the care recipient to feel shame, guilt, or resentment at their deteriorating health and loss of independence. These complicated feelings can sometimes lead to tension between even the closest of family members. Respite care can allow you to take a step back and heal your family relationships.
Assistance for your caregiving responsibilities
All of these benefits mean that you'll be better equipped to handle your caregiving duties. You may find yourself enjoying your time with your elderly loved one more now that feelings of frustration or anger have been relieved. You may also feel more energetic and better able to handle the physical aspects of caregiving.
Starting Respite Care
If you're thinking about starting respite care, consider sharing your feelings and needs with family first. Schedule a family meeting to discuss the type of help you need and review everyone's strengths, weaknesses and availability. If possible, make a plan that divides the caregiving responsibilities among family and enables you to take time you need for yourself.
Caregiving is better when it is done as part of a team effort. Take care of yourself and take advantage of professional respite care services when needed to help you and your elderly loved one maintain the highest possible quality of life.