Dementia Care Services in Northeast Portland: Tips For Easing Every Day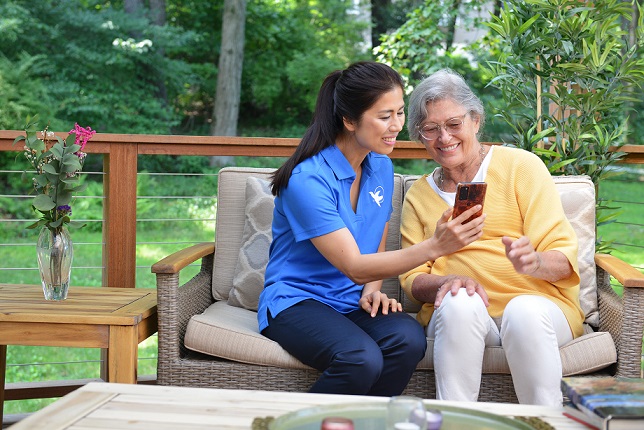 Looking after an aging loved one can be a significant undertaking, and that gets even harder if your loved one is diagnosed with dementia. At Visiting Angels® Gresham, we help seniors and their families in Northeast Portland navigate these tough times. With dementia care services, we can always be there for you.
Feeling unsure about how to tackle daily challenges? Here are a few things that might help.
3 Tips For Family Caregivers in Northeast Portland
When your family member is dealing with dementia, it's easy to feel helpless about how to proceed. You might be anxious about how things will change, or you may feel overwhelmed about where to start. Here are a few tips to help you and your loved one approach every day:
Consistency is key. When dementia is a factor, it can sometimes feel like every day brings new challenges. Consistency and routine can help to make certain things easier for you and your loved one. For your family member, a regular routine can make days feel a little less daunting because they know exactly what to expect. For you, routines can make it easier to incorporate priorities like medication, rest, and exercise.
Watch out for overstimulation. Dealing with the specific difficulties of dementia can be incredibly taxing for your loved one. Any new stimulation might simply be too much on top of all that. New environments, crowded stores, unexpected visits from family members—these experiences can all take a toll on your loved one, resulting in outbursts, confusion, or heightened stress. Try to keep these to a minimum where possible.
Make sure you have help. As a family caregiver, it's easy to fall into the trap of thinking you can do it all. The truth is, you need support—especially as your loved one's condition changes over time. Enlist other family members to drop off pre-prepared meals. Explore dementia care services in Northeast Portland. Consider hiring someone to take care of home maintenance or other bigger tasks.
Dementia Care Services You Can Count On
Simply put, having professional dementia care can make a world of difference for both you and your family member. At Visiting Angels Gresham, we know how important it is to get reliable support from a familiar face. We offer dedicated home care services in:
Northeast Portland
Clackamas
Happy Valley
Damascus
Gresham
And throughout the surrounding area
With our dementia care services in Northeast Portland, you'll always have trusted support for your loved one. You can get started with our team by contacting Visiting Angels Gresham.
*Private Long Term Care insurance and Veterans Benefits programs as well as County Grants are accepted.