Choosing Elderly Care in New London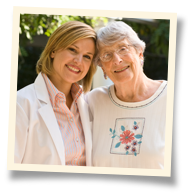 When the need for elderly care arises, it might be a surprise or it may be expected. Whatever the situation is for your family, Visiting Angels® Groton offers in-home care throughout New London County. We know that it may be a difficult, trying, or unexpected time for you and your loved one. We help to alleviate that, providing adaptive care whenever it's needed.
Our care services allow families to be part of the discussion from the very start. With in-home consultations, personalized care plans, and our Select Your Caregiver® program, you and your loved one will have plenty of opportunity to ask questions, provide input, and weigh in on crucial decisions.
We never take a generic or standardized approach to care. Instead, care plans are carefully designed with your loved one's needs at the forefront, so we can always be there to help.
An Attentive Approach To Elderly Care in New London
At Visiting Angels Groton, we provide a comprehensive range of care options to suit the many different needs of the clients we support. Whether your loved one needs help once a week or once a day, we can craft a schedule of care that accommodates them.
Our in-home consultations are the perfect opportunity for us to get to know your loved one while addressing any questions you may have. We can take this time to help alleviate the stress and concerns that come with any kind of transition or change.
This early step allows us to formulate a care plan that takes existing habits and preferences into account for elderly care services that are non-intrusive and supportive. For seniors in New London County, we bring dignity, comfort, and companionship back into everyday living, so your loved one can flourish as they continue to age.
Caregiving Services Throughout The County With Visiting Angels Groton
With our elderly care services, Visiting Angels Groton supports seniors living in and around the regions of:
New London
Niantic
Mystic
Groton
Waterford
As a locally owned and operated business, we have the unique flexibility and attentiveness that comes with it. An after-hour line means you or your loved one can always be in touch with us. If an urgent care situation arises, we can be there to help. Whenever you need us, we're here.
Ask about our elderly care services in New London County. To speak to our care team, get in touch with Visiting Angels Groton at your convenience.