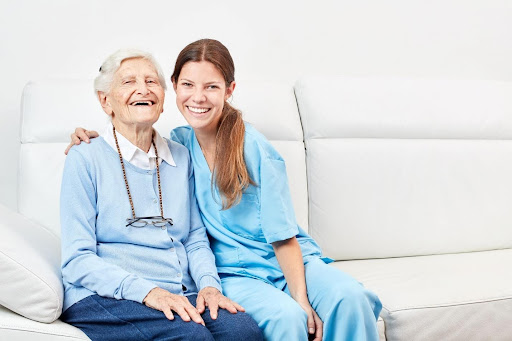 Why You Should Consider Hiring a Caregiver
Caregivers aren't only for seniors living with a medical condition or those needing physical assistance around the house. Many seniors look to their caregivers to provide emotional support and improve their social wellbeing. Plus, caregivers offer tons of benefits to families of an aging loved one by ensuring your loved one is cared for in any situation.
From a Senior's Perspective
Caregivers provide many benefits to seniors, from helping them maintain their independence to making sure they're safe in their homes.
Provides Independence
Some people may think hiring a caregiver will take away from their independence, but it improves your ability to live independently. As you age, you'll inevitably face challenges around the home. You might find it harder to carry laundry from room to room, or you might need help running errands or transportation to visit the doctor. A caregiver can assist with all of these tasks, plus light housekeeping, personal grooming, mobility, meal preparations, and much more. Your caregiver's goal is to help you feel safe and comfortable in your home, not take away your independence.
Improves Overall Wellbeing
Often, a caregiver works with a senior to make them more physically comfortable at home. For example, they are helping with mobility, showering, or toileting. But caregivers also provide significant help to seniors' mental and emotional wellbeing. Some seniors don't need much physical assistance but enjoy having a caregiver visit because it gives them someone to talk to or do stuff with, such as walks, games, or puzzles. Caregivers also help seniors stay connected with their loved ones by showing them how to use smartphones and social media.
Keeps You Safe
Sometimes it takes another person pointing something out for us to realize it's a hazard. For example, falling at home is a significant concern among seniors. It, unfortunately, happens often, but a lot of times, caregivers can help prevent falls by pointing out potential fall hazards, such as slippery rugs, uneven flooring, or unlit hallways. Since many seniors have lived in their homes for a few years, they may not see certain parts of their homes as hazards the way a caregiver might.
From a Loved One's Perspective
Caregivers don't just provide care to seniors; they also offer support to families and family caregivers.
An Ease of Mind
It's common to feel stressed or worried about an aging loved one, especially if you cannot provide 24-hour care to them. Instead of trying to reconfigure your schedule and constantly worrying if your loved one is safe and healthy, hire a caregiver who can visit your loved one on a regular schedule and assist them with tasks throughout the day. Having a professional caregiver looking after your loved one will allow you to focus on your work, family, and personal life without fearing that your aging loved one is unsafe. Plus, caregivers can offer support and resources if your loved one develops a health condition or eventually needs more hands-on care.
Prevents Burnout
Caregiver burnout is common among family caregivers. Most family caregivers are looking after their loved one in addition to working a full-time job, caring for their immediate family, and maintaining a social life. Instead of trying to juggle your loved one's needs with your own, you can hire a caregiver to take on some of the load. And allowing someone to help you will give you time to take care of yourself, which in return will let you be a better caregiver to your loved one.
Working with Visiting Angels
If you or a loved one is ready to consider a caregiver, the team at Visiting Angels Foley is available to help you find the perfect caregiver. We match our clients with the ideal caregiver and craft customized care plans to ensure our clients receive the best care. Our caregivers can assist with anything from light housekeeping to transportation and personal grooming. Our Foley office serves those in the Alabama Gulf Coast, including Gulf Shores and Orange Beach. To learn more about our services, you can complete this online form or call us at 251.943.7525.