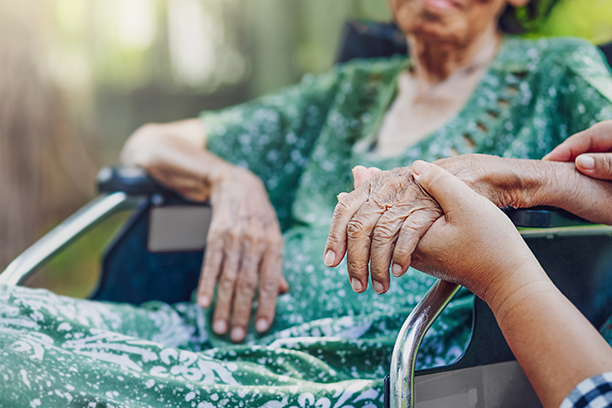 Quality Home Care for Seniors with Parkinson's in and Around Havertown, PA
In the early stages of Parkinson's, most individuals don't show any changes in how they act. But as the illness gets worse, it makes it hard to move, and even simple daily tasks become hard for seniors to do. If this disorder has been diagnosed in your loved one, they will need help from a professional in order to stay at home.
Fortunately, seniors in Havertown, Wayne, Bryn Mawr, Wynnewood, Broomall and the surrounding areas of Delaware, Montgomery and Philadelphia Counties who have Parkinson's disease can get quality home care from Visiting Angels. Even if your loved one is dealing with the challenges that come from Parkinson's, they will be able to live a happy, healthy and active life with our help. We will make a personalized care plan for your loved one based on their health so that all of their needs are met. We will also give your senior loved one a caregiver who is skilled and experienced and can meet all of their needs. So, your loved one can stay at home and be safe as they age in place.
Common Symptoms of Parkinson's
When it comes to Parkinson's, an early diagnosis can help your loved one deal with it better. Although only a doctor can make a definitive diagnosis, there are some symptoms and behaviors that are commonly associated with this disease.
If your loved one shows any of these symptoms, encourage them to make an appointment with their doctor as soon as possible:
Joint stiffness and difficulty with mobility
Twitching, tremors or shaking, especially of limbs
Cramped, small handwriting
Difficulty detecting odors
A stooped, hunched gait
Issues with staying balanced
Trouble sleeping
Depression
The Importance of Quality Home Care for Seniors with Parkinson's
If your loved one is living with Parkinson's, they may find that their everyday life is becoming gradually harder to handle. However, a dedicated caregiver can provide the support they need to make independent living with having Parkinson's a little easier, whether it's keeping track of doctor's appointments and medications, getting help moving around inside and outside the home or dealing with depression and anxiety.
With quality home care from Visiting Angels Havertown, it can be much easier to find the Parkinson's care your loved one needs. Before our caregivers join our team, we do a lot of research to ensure they have the experience and dedication needed to care for elderly and disabled adults throughout Montgomery, Delaware and Philadelphia Counties. We'll work with you to answer all of your questions, figure out what your loved one needs and give you detailed suggestions at every step of the way. Once we know what your family needs, we can match you with one of our caregivers who can help your loved one with everyday tasks so living with Parkinson's doesn't have to be as stressful.
Our caregivers can assist your loved one with:
Feeding assistance
Mobility assistance
Running errands
Wandering prevention
And so much more
At Visiting Angels Havertown, we know that caring for your loved one while they manage symptoms of Parkinson's disease isn't just about them, but also about you. If you are in charge of caring for a loved one, finding professional quality home care services can make your life easier and less stressful. Parkinson's disease can be hard to deal with, but a professional caregiver can help your loved one safely and comfortably age in place.
With Parkinson's care from Visiting Angels, we'll make sure that your loved one can stay at home while getting the quality home care they need. Since our caregivers are trained to take care of seniors with Parkinson's, Alzheimer's and other diseases that affect memory and cognition, you can rest easy knowing that your loved one is in good hands.
Call Visiting Angels Havertown at 484-451-7359 to schedule an in-home consultation today!
Serving Havertown, Wayne, Bryn Mawr, Wynnewood, Broomall and the surrounding areas of Delaware, Montgomery, and Philadelphia Counties including the Main Line
Visiting Angels
HAVERTOWN, PA
1950 Lawrence Road First Floor
Havertown, PA 19083
Phone: 484-455-7702
Fax: 610-924-9690