Home Care Services in Fair Oaks Ranch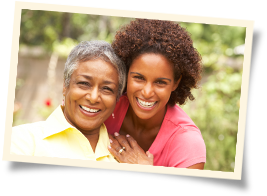 If you're trying to determine whether it might be time to seek home care services for your loved one in the Fair Oaks Ranch area, Visiting Angels® Boerne would like to help.
When asked, most seniors will say they want to remain at home as they age. As family members, we want more than anything to honor their wishes. However, there comes a time though when we begin to question whether home is the safest place for them. We can't be in two places at one time. It's also difficult to balance caring for our aging loved ones in addition to the demands of our jobs or children.
The good news is, in most cases, home care services are actually considered a safer and preferable choice when compared to an institutional setting. The World Economic Forum and the National Institutes of Health both recommend home care services as a healthier overall choice than a nursing home or assisted living facility.
Here are some signs it might be time to reach out for help:
Your loved one is having health or mobility issues
You suspect or they have already received a diagnosis of dementia
Your loved one is experiencing difficulty with daily activities or chores
One of your parents can no longer care for the other
Your loved one is doing okay but family caregivers could use a break
At Visiting Angels Boerne, we offer a free, no-obligation consultation in the comfort of your loved one's home in Fair Oaks Ranch. We'll help you assess your loved one's situation and customize a recommendation to fit their lifestyle, personality, needs, and schedule.
Home Care Services Available in Fair Oaks Ranch
Each care plan will be fully customized to your loved one's needs, however, the following are our most commonly requested services:
Assistance with bathing, dressing, and grooming
General housework (laundry, vacuuming, bed change, dusting, and more)
Medication reminders
Meal prep
Eating Assistance
Help running errands or getting to appointments
Walking assistance
Friendly companionship
And much more
We are a locally owned and operated home care service provider. We are honored to serve our neighbors in the following nearby communities:
Fair Oaks Ranch
Boerne
San Antonio
Kerrville
fFredericksburg,
And the surrounding area
What To Expect From Our Home Care Services in Fair Oaks Ranch
Our team of local professionals is recruited, screened, trained, and carefully matched with each of our clients according to needs, personality, and style. Nothing is more important to us than your loved one feeling comfortable and cared for.
Because we are so careful in our caregiver selection process, we find even the most hesitant seniors come around quickly to our caring and compassionate caregivers. Many soon begin to feel as if their caregiver is part of the family.
If you'd like to hear more about our home care services in Fair Oaks Ranch, or to go ahead and schedule your free consultation, please call Visiting Angels Boerne today.