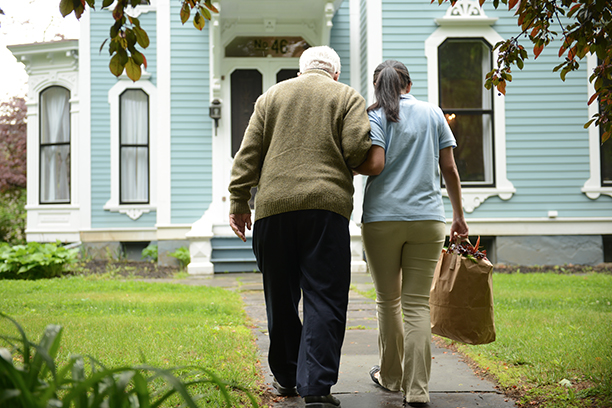 About Us
Visiting Angels is a licensed nurse registry (NR 30211328), providing home care services to those in need of assistance with all activities of daily living (bathing, dressing, feeding, toileting, incontinent care, and transferring), as well as meal preparation, medication reminders, housekeeping, transportation, errands, shopping, and respite care.
We are available 24/7 to assist you and your family in creating a care plan to ensure that you or your loved one remains comfortable and safe in the familiar surroundings of your own home. You will have the opportunity to interview any caregiver that we refer to you.
Your schedule is our schedule! It is our job to adjust to your schedule and keep your loved one comfortable at home. We never compromise on providing high-quality services to your family.
We have a certified senior advisor on staff, as well as an RN on call 24/7 to assist you, your family, or your caregiver with any concerns that may arise at home. Home assessments are always complimentary.
We are America's choice in home care!
Location
3830 Sun City Center Blvd. Sun City Center, FL, #102
Sun City Center, FL 33573
Call us today 813.752.0008
Questions & Answers
Q. What advice do you have for a customer looking to hire a provider like you?
A. Make sure that your agency is state licensed to provide the appropriate level of care that you or your loved one requires and that all caregivers are educated to provide that level of care. All caregivers should have undergone a level 2 background screening, have CPR training and a medical clearance before they are able to provide care. Ask if you are able to select your own caregiver and make your own schedule. This is very important...allowing the care recipient the opportunity to remain as independent as possible.
Q. If you were a customer, what do you wish you knew about your trade? Any inside secrets to share?
A. In Florida, there are three levels of home care...homemaker companion services cannot provide hands on care, nurse registries cannot accept Medicare and the services they provide are not covered under Medicare, home health care agencies sometimes do accept Medicare depending on what they have elected to do. Most home health care agencies provide care only with a physicians order and are not client driven. Ask how they add staff to their agency....do they add staff with the philosophy that each caregiver added would be someone that they would want caring for their own loved one?
Q. What questions should a consumer ask to hire the right service professional?
A. Does my loved one require hands on care? Is the agency I have selected a licensed agency with the proper license needed to provide the care that my loved one requires? Will I be able to interview and select the caregiver? Will I be able to determine the caregiver's schedule? Does my loved one need homecare services? Here are ten warning signs that your loved one may need homecare: 1. Poses a threat to their own well being. 2. Recently discharged from the hospital. 3. Has physical limitations. 4. Participated in Rehabilitation recently. 5. Experienced lapses in memory. 6. Unable to prepare their own meals. 7. Unable to maintain their independent lifestyle. 8. Unable to make it through the night unattended. 9. Disrupted family member's personal schedule. 10. Been dissatisfied with the family's caregiving efforts.
Serving Hillsborough County, Florida
Visiting Angels HILLSBOROUGH COUNTY, FL
3830 Sun City Center Blvd #102
Sun City Center, FL 33573
Phone: 813-752-0008
NR30211328