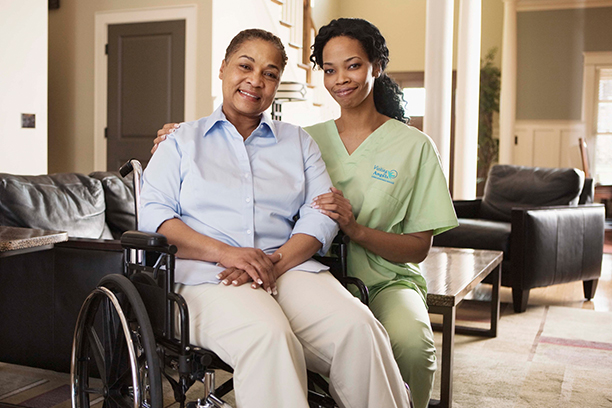 Senior Home Care Services in Laurel Bay, SC
Visiting Angels assist seniors in a variety of areas of senior home care service in Laurel Bay, South Carolina. As leaders in senior home care, we offer outstanding levels of support and dedication through our very own team of caregivers.
Visiting Angels gives seniors the chance to live independent lives from the privacy of their own homes, removing the anxiety of moving away to a nursing home. Our professionally trained caregivers are incredibly versatile, helping with a range of care types from 'Activities of Daily Living,' to palliative care and family respite.
Whether it's just for a few hours a day, or with 24/7 live-in assistance - we can make life comfortable and fulfilling for Laurel Bay residents of any age.
Senior Home Care Services in Laurel Bay, SC
After meeting us face-to-face (through a free in-home consultation), you and your loved one will be in charge of the caregiver selection process. A talented and loving staff member will then work with you to create a personal care plan. Personal care plans are unique to Visiting Angels, and something we're proud to say is a proven success.
You will have total control of your schedules, demands and routines. We provide senior home care services in Laurel Bay, SC with a range of 'Activities of Daily Living' including but not limited to:
Daily dressing and grooming
Hygiene and personal care activities
Light housekeeping chores
Homemaking tasks
Fun, friendly and supportive companionship
Diet planning and preparation of healthy meals
Reminders for medication schedules
Weekend or holiday care
Respite care for family members
Short-term or long-term care
Elderly Companion Care in Laurel Bay, SC
With age, the effects of loneliness become all the more prevalent. Family and friends may be able to visit, but naturally we all have jobs and personal matters to attend. With Visiting Angels we can be there for your loved one whenever you desire. We only hire the very best, warm-hearted caregivers to care for seniors in Laurel Bay.
Elderly companion care in Laurel Bay, SC can remove the troubles of daily life so that seniors enjoy life to the fullest once again. From medication reminders to taking part in favorite hobbies, we can help.
Personal Care in Laurel Bay, SC
We can provide personal care to Laurel Bay, SC residents, disabled adults and those who are in rehabilitation after injuries. Our personal care system is designed to put our clients at the forefront of caregiving. You and your loved one will be able to tell us the areas of life you need support in most, with the ability to make amendments and requests at any time.
Personal care is the total opposite to the anxiety-inducing methods employed by nursing homes and less successful senior home care services in Laurel Bay, SC. It provides a chance to enjoy daily life with assistance tailored around your loved one's personality, care needs, lifestyle, and scheduling requirements.
Respite Care in Laurel Bay, SC
Caring for a friend or family is one of the most valuable and charitable acts of love you can show. However, it isn't always easy. Understandably, it becomes stressful and too tiring when you have your own life and relationships to nurture. That's where we come in. Visiting Angels gives family caregivers the chance to take a break. It can be a one-off or as a more permanent arrangement throughout the week.
We can take care of the sides of caregiving that you would rather avoid or tend to struggle with. Whether it's medication reminders, hygiene assistance or just being around throughout the day - we've got you covered. We continually see families and friendships thrive with the introduction of respite care in Laurel Bay, SC and we'd love to help make this happen for you too.
Life Care Navigation in Laurel Bay, SC
Visiting Angels has built a reputation for reliable non-medical senior care through our life care navigation program. Our advanced program is designed to give equal attention to the core areas of life; mental health, physical health, and spiritual well being.
We personalize and combine our successful assistance methods to provide life care navigation to Laurel Bay residents that are perfect for each of our clients. These include:
Personal Care
Ready-Set-Go Home
Dementia Care
Alzheimer's Care
End of Life Care
Certified Palliative Care in Laurel Bay, SC
Certified palliative care improves the quality of life for seniors by focusing on their physical, emotional, social, and spiritual needs. We are proud to say this program is far more advanced than your average palliative care program and has helped many Laurel Bay residents regardless of their age.
To carry out this outstanding service our professionally trained caregivers will:
Address your loved one's physical care needs and provide non-medical care that makes their life easier.
Address the emotional needs of your loved one by using a compassionate approach when suffering from depression, loneliness, stress or anxiety.
Address your loved one's social needs by building relationships with them and your family through companionship and conversation.
Address the spiritual needs of your loved one by restoring hope and helping them find relief with dignity and respect.
Alzheimer's Care in Laurel Bay, SC
If you or a loved one has been diagnosed with Alzheimer's or related dementia, then know that you're not alone. Visiting Angels can provide a support system that makes life a little bit easier every day. Regular professional care or family respite services can help with cognitive stimulation and assistance with the problematic tasks of daily living.
We have our own employed caregivers who are experts in Alzheimer's care in Laurel Bay, SC and are waiting for your call.
Ready-Set-Go Home
'Ready-Set-Go Home' is the name of our hospital rehabilitation Service in Laurel Bay, SC. If your loved one has recently had an inpatient hospital stay then we can help reduce the chances of them returning. We can assist with follow up visits, medication reminders and more to get them back to a healthy life at home.
Social Care in Laurel Bay, SC
During our senior social care program in Laurel Bay, SC our caregivers help your loved one remain connected with family and friends, by assisting and educating them with modern technology and social media.
Dementia Care in Laurel Bay, SC
Our specialist caregivers can help with tasks such as bathing, dressing, transportation, walking and companionship for seniors in need of dementia care in Laurel Bay, SC. Our services are also proven to reduce the pressure placed on family caregivers who often struggle to come to terms with providing dementia care, and would rather focus on nurturing their family relationships.
End of Life Support in Laurel Bay, SC
Our caring team can provide comforting assistance to your loved one while giving your family the freedom and support needed during this difficult time. We believe every senior and their family deserves to be able to spend quality time together in their later years, and we will do everything in our power to make that possible when providing end of life support in Laurel Bay, SC.
Fall Prevention in Laurel Bay, SC
Every year one in three adults fall, and one in five sustain an injury that causes a severe decline in their health. Here at Visiting Angels, we have made it a priority to reduce the chances of this happening to our clients. Through fall prevention in Laurel Bay, SC our caregivers will assist your loved one with mobility and ensure their home is free from trip hazards.
Long Distance Caregiving in Laurel Bay, SC
Is your parent or grandparent living alone across the country or state? We've got you covered. Our dedicated caregivers can be on hand night and day to monitor and report back to you on their current status and progress. We'll be able to answer questions and suggestions every day of the week, to ensure you're never left in the dark.
Serving Hilton Head, Bluffton, Beaufort and the Surrounding Areas
Visiting Angels
HILTON HEAD, SC
29 Plantation Park #114
Bluffton, SC 29910
Phone: 843-757-1002
Fax: 843-757-1022