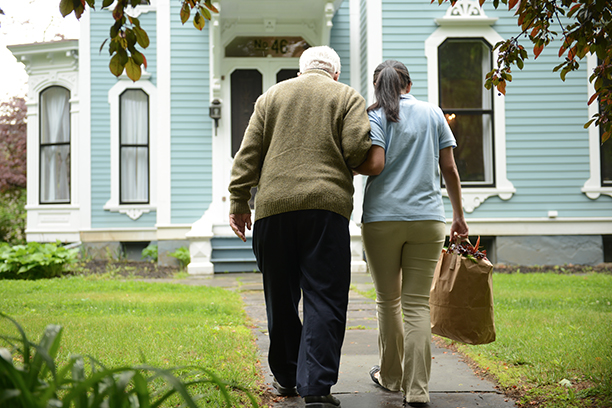 In-Home Palliative Care for Seniors in Hot Springs, AR
At Visiting Angels of Hot Springs, our palliative care program provides relief to seniors living in Hot Springs, Hot Springs Village, Fountain Lake, and surrounding areas in Arkansas who are managing symptoms and stress from severe long-term illnesses and health conditions – during any stage – inside the comforts of home. Our home care services foster a sense of peace and well-being, regardless of life expectancy, to enhance the quality of life for individuals and their families.
Call us at 501-222-3493 to learn how our caregivers can comfort and support your senior loved one.
Why Choose Palliative Care from Visiting Angels of Hot Springs?
When providing palliative care, our caregivers will focus on your loved one's physical, emotional, social, and spiritual needs. Our specialized program goes beyond most programs of home care for seniors, providing help and comfort regardless of life expectancy. The program trains our caregivers to be supportive, soothing, comforting, and approach senior care with a holistic mindset. When working with Visiting Angels of Hot Springs, our team will care with the mission of restoring hope and assisting with healing.
Our team of caregivers focuses on a wide range of home care services, including your loved one's physical, emotional, social, and spiritual needs. With help from you and your family along the way, we will address:
Physical care needs of seniors by recognizing and responding to signs of aging typical among the elderly. We will put together a plan that provides care to comfort our clients
Emotional needs of our clients by adopting a compassionate approach, supporting seniors who may be suffering from depression, loneliness, stress, or anxiety
Social conditions of elderly adults by building relationships with our clients and their families and by providing those in our care with companionship and conversation
Spiritual needs of older adults by restoring hope to their lives, helping them find comfort and relief from age-related difficulties, and treating each client with dignity and respect
The Difference Between Palliative Care and Hospice Care
While most people use the terms "palliative care" and "hospice care" mutually, these two are different services. Palliative and hospice care have many similarities. At their core, both seek to relieve pain and discomfort. Hospice care, however, is typically reserved for those who are nearing the end of life.
Palliative care is for individuals who need:
Physical, emotional, spiritual, and social care
Personal home care services to maintain independence and comfort at home
Visiting Angels of Hot Springs has a dedicated, compassionate team of home care professionals that accomplish all this and more through our palliative care services. Combining compassion and professionalism, this program enriches the quality of life for all clients through specialized personal care and assistance.
Getting Started with Palliative Care from Visiting Angels of Hot Springs
If you have a loved one who needs comforting in-home care, you will find the care you need by contacting Visiting Angels of Hot Springs. We will be happy to answer any questions you may have about our programs and coordinate a meeting with one of our care directors in the comfort of your loved one's home. Contact Visiting Angels of Hot Springs today to learn how we can help your senior loved one age in place.
Click one of the buttons below to get in contact with our team.


Serving Hot Springs, Hot Springs Village, Fountain Lake, and the Surrounding Area
Visiting Angels
HOT SPRINGS, ARKANSAS
320 Ouachita Ave #312
Hot Springs, AR 71901
Phone: 501-321-4900