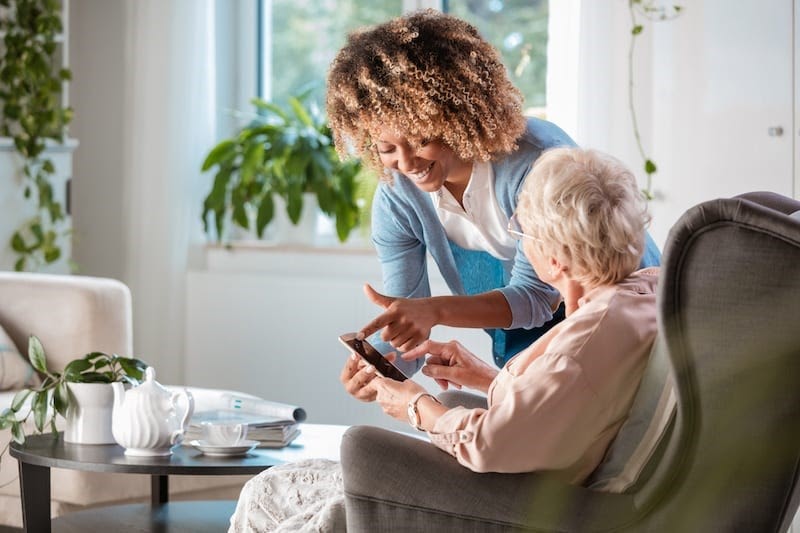 Long-Distance Care Can Help During Difficult Times
Living through the pandemic has been stressful and scary. But it has taught us plenty of valuable lessons about how to care for ourselves and our families. While it has been a difficult time, it has been exciting, recently, to see more indications that we have made it through the most dangerous part of the pandemic. Life is starting to look normal, and vaccinated families have been advised that they can safely come together again, which has been a joy to see!
So, what did we learn from our experience? Living through a time of crisis taught us how to provide emotional care to those who matter to us the most, even when we can't be a physical presence in their lives.
Visiting Angels of Hurst, Texas, enabled many of our clients and their families to manage the daily challenges that the pandemic presented. We offered meaningful solutions to local families and to their loved ones who live across the country. Here is how we help families thrive.
Care that suits your changing needs
Many families live far apart. Distance is hard, but people have important reasons to go where life takes them. We don't have to feel guilty when the miles separate us; we can simply find good ways of problem-solving to ensure our loved ones are safe and secure.
Visiting Angels of Hurst, Texas can be a core part of a family's solution when a senior needs care. Our clients and their families appreciate our Life Care Navigation program. Our services can be easily enhanced as our clients' needs change. If a client needs companion care and assistance with grocery shopping, cooking, running errands, and getting to medical appointments, our non-medical caregivers are happy to help.
As a client's needs change, and they require enhanced services like assistance with bathing, grooming, or medication reminders, we offer those services as well. If a client find themselves in need of dementia or Alzheimer's care, many of our caregivers are specially trained to provide those services as well.
We are proud to customize care to suit the needs of our clients, and we will loop their families into the conversation. That way, even if they are far away, they get regular reports on how their loved one is progressing. It is a relief for families to be able to monitor their loved one's care, even from a distance.
Keeping home secure
Falls can be devastating to senior's mental and physical health, which can be especially worrisome to their family members who live far away. They can't be a regular presence to ensure that the home is a safe space for the seniors they love.
But our caregivers can provide that help. We are committed to helping seniors maintain their independence. We offer our Fall Prevention program, which educates seniors and their families about the dangers they need to be aware of within the home.
While accidents happen, some can be avoided by taking proper precautions. Our caregivers can help advise their clients of those dangers, bringing peace of mind to the seniors we support and their families.
Keeping in touch
The pandemic challenged us to get out of our comfort zones even as we were burrowing into our homes. For many of us, this meant upping our technical skills to stay in touch with our loved ones. Visiting Angels of Hurst, Texas has helped seniors to connect with their family and friends locally, nationally, and internationally through our Social Care program.
This program has long been a favorite among families who live far away, but it became more important than ever during the pandemic. Visiting Angels of Hurst, Texas' Social Care programs gives seniors the chance to learn some internet basics in the comfort of their own homes. Our clients get the opportunity to work with a professional who goes at a comfortable speed and teaches them how to use a cell phone, shop online, use Facebook, and social media. They also learn how to stay safe online.
Our clients and their families love the Social Care program. It would also make a wonderful Father's Day gift!
Staying together
The pandemic taught us that we could weather any storm if we have the support we need and our family's love. Let us know how we can help your family thrive. Contact us online or call us at 817-952-3223.