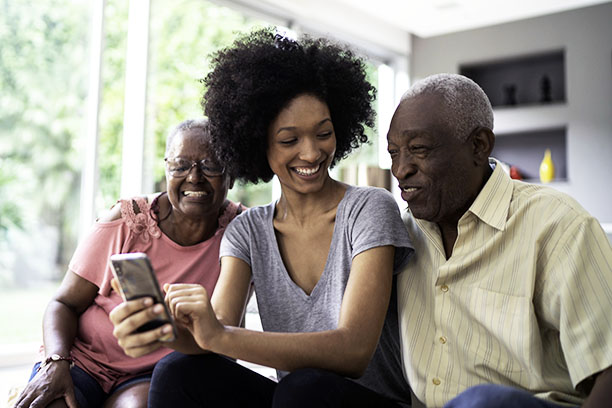 Social Care from Elder Assistance at Visiting Angels Jackson
Social Care: Providing Elder Assistance to Embrace Technology

The Visiting Angels team understands that providing elder assistance and care for our senior clients requires a holistic approach. Our holistic approach includes care for the individuals—inside and outside of the home. We encourage our clients to make the most out of technology with the assistance of our social care program helps families stay connected by using platforms like Facebook, Skype, FaceTime, etc., to remain active and engaged.
Digital Tools Help Seniors Connect to Family and Friends

It is not always easy for our senior clients to adjust to a digital social life; it can be difficult or frustrating for them. This is why we offer an elder assistance program to help our senior clients use technology to benefit themselves. There are studies, though, that have shown that the following emotional and mental benefits that digital tools can/have had on our senior population:
Surfing the internet can reduce depression in Seniors by 20%. *
A University of Arizona study finds seniors who use Facebook showed a 25% improvement in mental "updating" skills - essentially improving their working memory.
Another study shows seniors who visit social networking sites, like Facebook, have a positive emotional experience when measured by breathing rates, brain stimulation, and pupil dilation. **
Helping Seniors Stay Engaged Via Technology

The Visiting Angels' Social Care Program teach seniors to:
Use a cell phone for calls, texts, or app usage
Text, send e-mail, Skype, or use FaceTime for communication
Create a Facebook account and interact with family and friends
Log in, shop online, or research information on a search engine
To learn more about how Visiting Angels Jackson, TN can provide elder assistance for your loved one, contact us at 731-300-5141.
* Washington, D.C. based Phoenix Center
** Journal Cyberpsychology, Behavior, and Social Networking
Serving Madison, Chester, Henderson, Hardeman, and Haywood Counties
Visiting Angels
JACKSON, TN
1296 N Highland Ave #14
Jackson, TN 38301
Phone: 731-300-5141
Fax: 731-300-5032