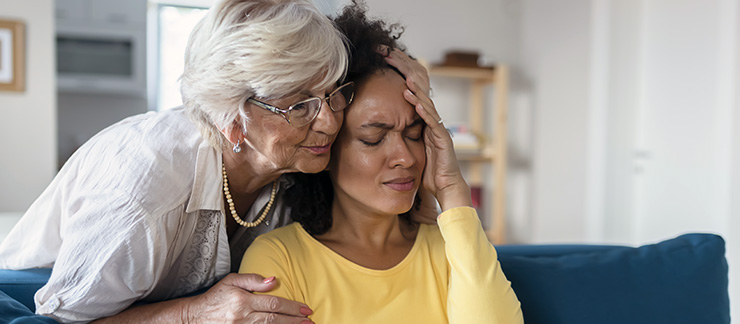 Recognize Common Signs of Caregiver Burnout
Caring for an aging loved one is an important responsibility, but it can also be overwhelming. Managing their needs while focusing on other family and work obligations can potentially lead to caregiver burnout.
Sometimes, you may not realize when your senior care duties are having an adverse effect—both physically and mentally—on yourself. Often, friends and family are the first ones to notice.
Recognizing any signs of stress and emotional strain early — before you experience the negative effects —can help prevent caregiver burnout.
What Are the Signs of Caregiver Burnout and Stress?
If you are the primary support for an elderly or disabled family member, you should understand the signs when you are becoming overwhelmed. Common signs and symptoms of stress among family caregivers can include:
Exhaustion, low energy, and fatigue
Lack of sleep or irregular sleeping patterns
Anxiety or worry
Irritability or anger
Sudden weight gain or loss
Physical pain, such as headaches and backaches
Feelings of resentment or guilt
Excessive smoking, drinking or eating
No longer finding joy in caregiving or other activities
Hyperfocus on caregiving responsibilities
Lack of interest or ability in eating well, exercising or attending social events
Blaming your loved one or yourself for their situation
Make Time for Self-Care to Reduce Stress
Trying to push through continuous stress and anxiety can have serious consequences— potentially affecting your mental health, relationships, and ability to care for your loved one.
Although it might feel counterintuitive, taking time for yourself is actually the best thing you can do for everyone. Here are a few suggestions to manage stress and reduce the risk of caregiver burnout:
Relaxation practices
Meditation, yoga, deep breathing, prayer, and mindfulness practices can relieve stress and be easily integrated into your daily routines. A short, five-minute meditation or prayer break can benefit your overall well-being.
Support groups
Joining a caregiver support group in your area is a great way to connect with others who are caring for loved ones — and a helpful place to pick tips and suggestions to find balance in your life. Sharing your experience with others in similar situations can also be therapeutic.
Proper nutrition and exercise
A well-balanced diet can impact your personal welfare and give you the nutrients and energy you need to perform your daily activities. Moderate levels of exercise — such as brisk walking or taking the stairs — can increase energy, burn calories, and boost levels of feel-good hormones.
Consult your doctor
If taking steps to manage your stress has not provided relief, it might be a good idea to speak with a medical professional. Your doctor might have ideas to improve your mental and physical state.
Respite care and family support
If you need help with caregiving, it's acceptable to ask. Family members may be able to provide support or handle some of your responsibilities temporarily or permanently. Hiring a professional in-home personal caregiver through Visiting Angels' respite care services is another option to give you a break so you can relax or attend to personal needs.
When you are caring for a loved one, it's important to remember the benefits of self-care. If you feel that hiring a professional home care provider might be the right choice for you and your loved one, contact a Visiting Angels coordinator to schedule a free, no-obligation in-home consultation today.