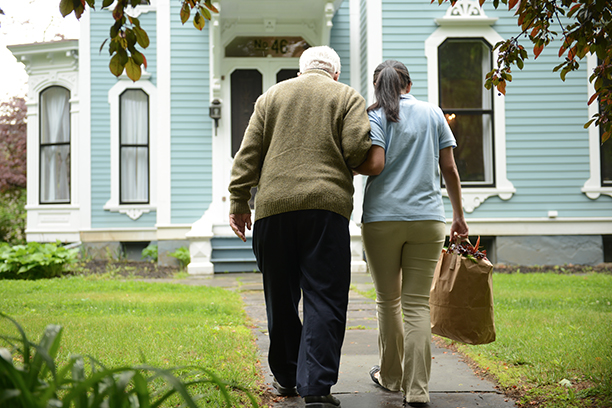 How Quality Home Health Care Services from Visiting Angels Can Help Seniors in Jersey City, NJ and Surrounding Areas Enjoy Proper Nutrition
How a Professional Caregiver from Visiting Angels Jersey City Can Help Your Parent with Meal Planning and Preparation
Caregivers from Visiting Angels have helped many seniors in Jersey City, Bayonne, and the surrounding areas eat right with planning and preparing meals.
The most common sign of declining independence for seniors is lacking a proper diet, caused by multiple factors such as limited to chronic or progressive medical conditions, mobility difficulties, medication side effects, problems with chewing, and loss of appetite. In contrast, seniors eating less than needed for optimal functioning or eating the wrong foods can result in a gradual decline of health, worsening of existing conditions, and reduced overall well-being. Because of this, at Visiting Angels of New Jersey, we express the importance of a healthy diet and balanced meals for aging seniors.
If you are worried about your aging seniors' eating habits, our care agency is available to assist and ensure that they are eating well. We create personalized home care plans developed around our client's actual needs-- we often add in services that assist with meal preparation; we also find a compatible caregiver that will help them with other activities of daily living.
How Caregivers Assist with Planning and Preparing Meals
Visiting Angels of Jersey City provides seniors with meal preparation & planning services that include developing weekly or monthly menus, grocery shopping, preparing the ingredients for the actual cooking, washing the dishes, and cleaning the kitchen.
For your loved one who cannot cook on their own anymore, or maybe they don't want to participate in their meal preparation, their caregiver will be there to offer a warm meal. Caregivers can also assist seniors that want to try a new recipe but cannot do it on their own safely.
Visiting Angels only hires the most highly trained individuals to work with our clients; our caregivers have experience with meal preparation and specialized diets, so your loved one will be in good hands. They will be there to ensure that seniors are following any diet recommendations and assist if they need to reduce or limit their sodium intake.
The Benefits of Meal Preparation in Senior Years
We encourage all clients to shop at local stores or markets alongside their caregivers. This gives seniors the chance to safely get out of the house and get fresh air while moving their bodies. There are cases where our clients cannot leave their home to do their shopping-- in these cases, our caregivers will go grocery shopping alone, buy the groceries their client needs for meal preparation, and deliver them to their home.
For seniors that are not able to feed themselves, they can have a caregiver provide feeding assistance. This service also can include fluid intake reminders also-- we make sure our clients are not only staying fed but are also staying hydrated.
Seniors requesting meal assistance can have a caregiver help with these tasks while also being a social presence during mealtime. Caregivers will always turn mealtimes into a social activity and opportunity for conversation and bonding.
To learn more about our quality home health care services, please contact our Jersey City, NJ office today!
Serving Jersey City, Bayonne and the Surrounding Area
Visiting Angels
JERSEY CITY, NJ
366 Broadway
Bayonne, NJ 07002
Phone: 201-306-9313
Fax: 201-589-5770