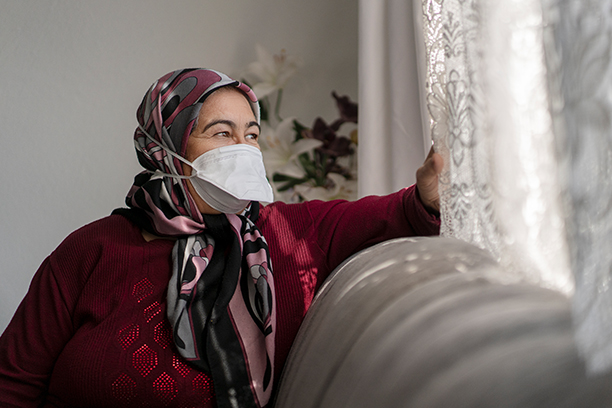 Comforting Palliative Care for Seniors in Jonesboro, GA and Nearby Areas
Visiting Angels Jonesboro aims to alleviate discomfort and improve the quality of life for our senior clients in Jonesboro, Ellenwood, Morrow, Riverdale, College Park, South Fulton, Cliftondale and surrounding areas in Georgia through our Certified Palliative Care Program
When your elderly loved one has been diagnosed with a chronic condition or illness, they can benefit from a comforting and caring presence to supplement the medical care they're already receiving. At Visiting Angels Jonesboro, we've developed the Certified Palliative Care Program in order to provide soothing and all-around comfort to our senior clients. Our caregivers have the compassion and experience needed to fulfill your loved one's physical, social, emotional and spiritual needs.
The Difference Between Palliative and Hospice Care
From our experience, the vast majority of people perceive palliative and hospice care as the same thing. However, in the caregiving industry, these two terms are traditionally seen as different types of care altogether.
While there is no doubt that palliative and hospice care share many similarities in their core, as both aim to relieve discomfort and raise quality of life, hospice care is almost exclusively reserved to those diagnosed with terminal illnesses.
On the other hand, palliative care refers to the efforts of professional care providers to elevate the quality of life for any patient with advanced care needs, regardless of whether or not they are afflicted with a serious illness.
At Visiting Angels Jonesboro, we offer quality in-home care designed to support seniors through personalized care and assistance. Our certified caregivers can help your loved one continue living independently at home as comfortably as possible for longer.
What's Included in the Certified Palliative Care Program for Seniors in Jonesboro and Surrounding Communities
We provide in-home palliative services as an integral part of our Life Care Navigation, which is a comprehensive collection of senior care services, with each program designed to address an important area of care. Life Care Navigation also includes end of life care that provides compassionate care and support to those nearing the end of life and their families.
We have a large roster of qualified caregivers, trained to approach care from a holistic perspective, meaning our Angels companions – how we call our caregivers – are trained to focus on a wider range of needs, including physical, social, emotional and spiritual.
Getting Started with In-Home Care from Visiting Angels Jonesboro
To get started with Visiting Angels Jonesboro, all you need to do is call our office and we'll take it from there. Our team members are available 24/7 and will be more than happy to answer any questions about our Certified Palliative Care Program and how it can help your loved one.
Furthermore, we will also coordinate an in-home meeting with you, your loved one, and one of our friendly care directors at a convenient time for your family. Our experts will use this opportunity to get to know Mom or Dad and assess their health, living conditions, routines and personality. From this, we will be able to tailor a care plan that will meet all their needs and provide your family with peace of mind.
Contact our Jonesboro, GA office at 678-883-7217 to schedule your free in-home assessment and learn more about our in-home care options. We look forward to working with you!
Serving Jonesboro, College Park, South Fulton and surrounding communities of Cliftondale, Heritage Park, and Red Oak, GA
Visiting Angels Jonesboro, GA
238 Stockbridge Rd #206
Jonesboro, GA 30236
Phone: 678-883-7217