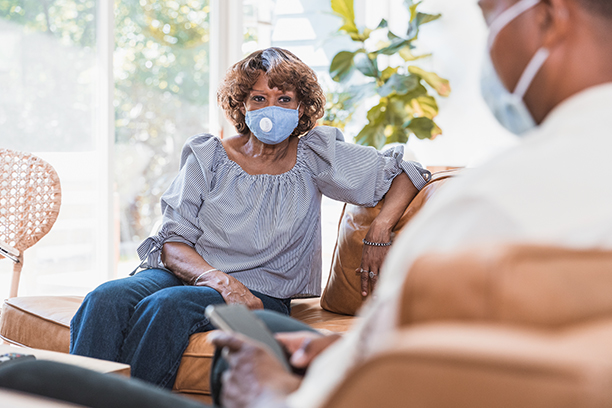 Long-Distance Elderly Care Services for Seniors in Jonesboro, GA and Surrounding Areas
If you live outside of Jonesboro, College Park, South Fulton, Cliftondale or surrounding communities in Georgia, Visiting Angels Jonesboro can provide your senior loved one with a comfortable and safe home environment through quality elderly care services
The rules of modern living are hectic. That is why today many individuals are forced to move away from home and their loved ones in order to find good jobs and focus on their careers. This works out for the most part, but it is particularly difficult if you happen to have an older parent. We know how difficult this is. Making sure your loved one receives proper elderly care from a distance could be filling you with anxiety. We are here to help.
With Visiting Angels Jonesboro, you can be sure your loved one is getting everything they need to maintain their independence in a safe environment day in and day out. We have proven on a consistent basis that clients have been right to place their trust in us. We are proud to provide area seniors with the highest quality in-home care in Jonesboro, Ellenwood, Morrow, Riverdale, College Park, South Fulton, Cliftondale and surrounding communities in Georgia.
Finding the Right Elderly Care Provider for Your Senior Loved One
Finding the right professional senior caregiver for a parent is made difficult by the fact that each senior is an individual with unique needs. What works for them may not work for someone else. Finding the right home care agency can be difficult if you are located close to your loved one, but being separated does make it additionally challenging. At Visiting Angels Jonesboro, we focus on taking away the stress of finding a reliable senior caregiver.
We will spend as much time as necessary making sure your loved one is getting the care they need. We start with a free in-home consultation with your loved one. This is when we will spend some time getting to know your loved one and the current status of their health. We will also speak to them about their schedule and what their goals are. We want to make sure your loved one is healthy, but we also give them ownership of their life. Just because your loved one needs some help around the house does not mean they should sacrifice their independence.
We Give Families in Jonesboro and Surrounding Areas Peace of Mind
Quality elderly care places the needs of older adults front and center, but it also focuses on their loved ones. Giving you peace of mind is definitely part of our job, as well. That's why our caregivers serve as a second pair of eyes and ears for the families of our clients.
When you work with Visiting Angels Jonesboro, you'll always know how your loved one is doing through regular updates from our office. We'll let you know if their health or well-being changes as we care for them. This is especially beneficial for families who live outside the Jonesboro area. With our regular updates, you won't have to stress over whether your loved one is doing OK on their own.
To learn more about how our elderly care services can help your loved one and give you peace of mind, call our Jonesboro, GA office at 678-883-7217 or fill out our contact form today!
Serving Jonesboro, College Park, South Fulton and surrounding communities of Cliftondale, Heritage Park, and Red Oak, GA
Visiting Angels Jonesboro, GA
238 Stockbridge Rd #206
Jonesboro, GA 30236
Phone: 678-883-7217