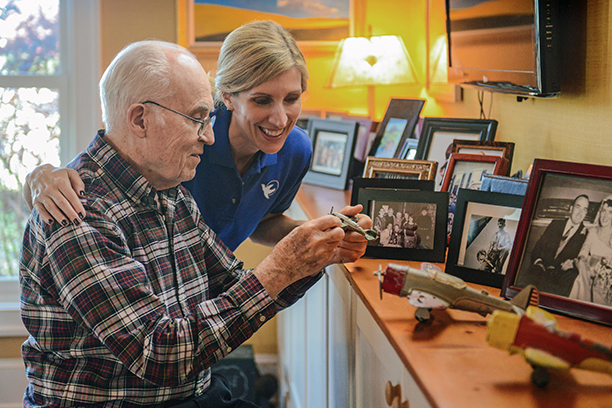 Experienced Quality Home Care Experts from Visiting Angels Jonesboro
At Visiting Angels, our caregivers have extensive experience with providing quality home care services to elderly adults throughout Jonesboro, Ellenwood, Riverdale, Morrow, College Park, South Fulton, Cliftondale and surrounding areas in Georgia
Your loved one may be needing a bit of help around the house more than usual. The most natural thing in the world for you to do is to want to be there for them. However, that may not always be a possibility. We live in very busy times and just holding down a job and taking care of your children and spouse may be proving difficult enough. Although your intentions are pure and come from a truly incredible place of deep care for your loved one, it may not actually be in their best interest to watch you get stretched too thin. Surely, they do not want to see that.
Thankfully, quality care for seniors is available in the Jonesboro area. Your loved one can continue to age in place without ever compromising their safety and well-being thanks to Visiting Angels Jonesboro.
Why Count on Our Quality Home Care Providers
At Visiting Angels Jonesboro, we believe that professionalism and expertise are equally as important as compassion is when it comes to caring for seniors. That is why we chose only the best caregivers out there. All of our caregivers are carefully vetted and are truly compassionate about helping your loved one age in place despite any challenges they may be facing.
The quality home care services we provide in Jonesboro, Riverdale, Morrow, Ellenwood and surrounding areas include:
Assistance with bathing, toileting, grooming and dressing;
Meal planning and preparation, and grocery shopping;
Supporting your loved one in carrying out their exercise goals;
Medication reminders and monitoring for harmful side effects and proper adherence;
Companion care and conversation;
Incidental transportation
At Visiting Angels Jonesboro, we appreciate the importance of choosing the right caregiver for your loved one. As so many older adults spend many hours of the day alone because they no longer work and may have lost their spouse, finding companionship in one's caregiver can make a massive difference in one's life. Before matching your loved one with one of our caregivers, we will meet with your loved one and try to get to know them as well as possible. We take everything into consideration, not only the state of your loved one's health, but also their personality, humor and values.
Schedule a Free Consultation with Visiting Angels Jonesboro
If you think it is time for your loved one to get quality home care solutions, contact Visiting Angels Jonesboro today. The sooner you act, the sooner their life will improve for the better. This can have an incredible positive impact on their life, allowing them to age in place for however long they would like.
Call our Jonesboro, GA office at 678-883-7217 or fill out our contact form today!
Serving Jonesboro, College Park, South Fulton and surrounding communities of Cliftondale, Heritage Park, and Red Oak, GA
Visiting Angels Jonesboro, GA
238 Stockbridge Rd #206
Jonesboro, GA 30236
Phone: 678-883-7217