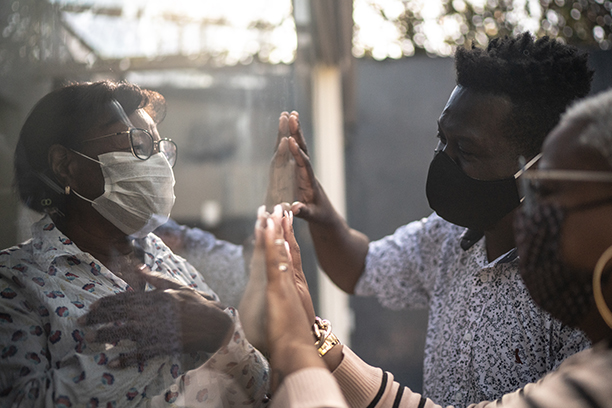 Our In-Home Caregivers Help Seniors in Jonesboro, GA and Surrounding Areas Stay Connected with the Social Care Program
Through the Social Care program, our in-home caregivers help seniors in Jonesboro, Riverdale, Morrow, Ellenwood, College Park, South Fulton, Cliftondale and surrounding Georgia communities learn how to use digital platforms to stay connected with friends and family
At Visiting Angels Jonesboro, we offer personalized care plans to assist older adults in receiving the care they require to maintain their independence throughout their golden years. When you hire Visiting Angels, our in-home caregivers are not only there to help with the various chores and activities required to live a comfortable life at home, but they are also there to improve your loved one's quality of life.
Our Social Care program focuses on assisting senior loved ones in remaining socially active and engaged while living independently at home.
What's Included in the Social Care Program from Visiting Angels Jonesboro?
Your loved one can learn new skills and improve their social wellness with the help of the Social Care program. With the assistance of our in-home caregivers, your loved one can learn how to use digital tools and platforms to communicate with friends and family, allowing them to stay in touch with those they care about despite physical limitations.
The Social Care program from Visiting Angels Jonesboro includes but is not limited to:
Learning how to use a cell phone, a tablet, or a laptop

Texting and sending e-mails

Using video chat programs like Skype and FaceTime

Surfing the internet

Creating a Facebook account
These newly acquired skills can open a world of possibilities for Mom or Dad and help keep loneliness and isolation at bay. Your loved one can regularly keep in touch with family and friends who live out of town, socialize and meet new people online, shop for consumer goods and order services, play games, watch movies and TV shows and much more. Thanks to our Social Care program, your loved one can stay engaged and lead a happy, socially active life at home.
Contact our Jonesboro, GA office today to learn more about how a Visiting Angels dedicated in-home caregiver can help improve your loved one's social wellness and quality of life. We are available 24 hours a day, 7 days a week to answer all of your questions and provide you with a free in-home consultation in which we can visit your loved one's home at a convenient time and develop a care schedule based on your specific needs.
Call us at 678-883-7217 or fill out our contact form today to learn how our in-home caregivers can help your loved one. Visiting Angels Jonesboro is here for you!
Serving Jonesboro, College Park, South Fulton and surrounding communities of Cliftondale, Heritage Park, and Red Oak, GA
Visiting Angels Jonesboro, GA
238 Stockbridge Rd #206
Jonesboro, GA 30236
Phone: 678-883-7217
The Importance of Social Media for Independent Seniors
In the last few years, there has been an effort to correlate the use of digital technologies with the impact they have on the quality of life of older adults. Various studies came up with interesting results. A research team at the University of Arizona found that seniors who frequently used Facebook had a 25 percent increase in mental skills and managed to improve their working memory.
According to the Phoenix Center based out in Washington D.C., one study concluded that surfing the internet helped reduce depression in senior test participants by 20 percent. Another study from the Journal of Cyberpsychology, Behavior and Social Networking showed that seniors who used social networking sites demonstrated positive emotional experiences based on breathing rates, pupil dilation and brain stimulation.