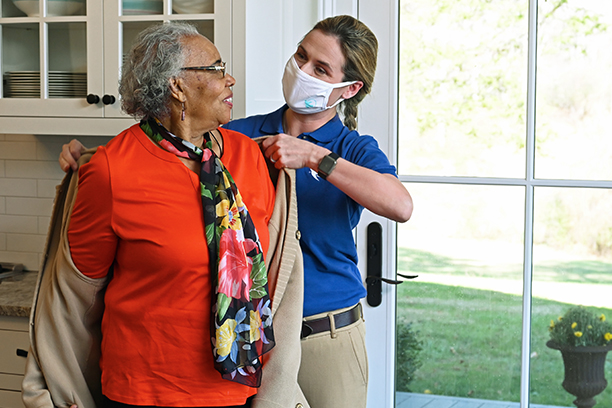 Veteran's Care Programs in Jonesboro, GA and Surrounding Areas
Visiting Angels helps elderly veterans and surviving spouses in Jonesboro, Ellenwood, Riverdale, College Park, South Fulton and surrounding Georgia communities make in-home care affordable by providing information about veteran's care programs
As a veteran of the United States Armed Forces or surviving spouse of a veteran, your loved one may be eligible for benefits that can be used to cover the costs of professional home care services from Visiting Angels Jonesboro.
Aid and Attendance
Veterans and surviving spouses with service and non-service related disabilities may be eligible for Aid and Attendance – a veteran's care program which can help cover the costs of arising medical expenses and/or professional home care services.
Qualification Criteria for Veterans or Widowed Spouses
To obtain the VA beneficiary status, veterans or their surviving spouses must meet the following criteria:
The veteran served at least 90 consecutive days in the U.S. military with at least one day served during a time of conflict.

The veteran was honorably discharged.

The widowed spouse was married and living with the veteran at the time of the veteran's death and never remarried.

The widowed spouse was married to the veteran for at least one year or had children with the veteran.

Total household liquid assets should not exceed $80,000.

Doctor's certification stating that the veteran in question or their surviving spouse is in need of assistance due to medical reasons.

Seniors with low income may also qualify in case their monthly income after medical expenses meets the U.S. Department of Veterans Affairs criteria.
Additional Benefits
Additionally, veterans and surviving spouses may even receive an increase in their benefits to further cover the increasing costs of veteran's care if they are housebound and in need of personal assistance.
Some of the benefits your loved one may be eligible for include:
Free medications, medical equipment, hearing aids and incontinence supplies.

Special benefits for veterans who served in the States or were deployed overseas to serve in the Vietnam War or the Gulf War, as well as those who were taken as POW.

Pension bonuses to cover up to 60 hours each month for care needed by a qualified veteran with a spouse.

Monthly care coverage of up to 50 hours for unmarried veterans.

Surviving spouses of veterans are eligible to receive up to 30 hours of care each month.
However, bear in mind that requirements for additional benefits may vary depending on the state and place of residency.
Why Choose Visiting Angels Jonesboro?
We are thankful to veterans in Jonesboro, College Park, South Fulton and surrounding communities for serving our country, so we want to ensure they receive the support they need. Unlike other local home care agencies, we offer a personalized, one-on-one approach to care for seniors. We will customize a care plan based on your loved one's needs, schedule and other factors. Our caregivers have prior caregiving experience and share our values when it comes to patience, loyalty, kindness and providing reliable veteran's care, so you can have peace of mind knowing your loved one will be in good hands with Visiting Angels Jonesboro.
If your loved one is eligible for Veteran's benefits, call Visiting Angels Jonesboro at 678-883-7217 or fill out our contact form today and learn more about our veteran's care programs and how we help. We are here for you!
Serving Jonesboro, College Park, South Fulton and surrounding communities of Cliftondale, Heritage Park, and Red Oak, GA
Visiting Angels Jonesboro, GA
238 Stockbridge Rd #206
Jonesboro, GA 30236
Phone: 678-883-7217