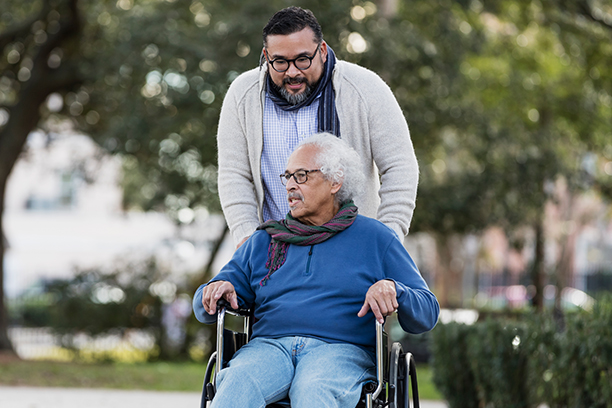 Benefits of Home Care for Seniors in Jonesboro, GA and Surrounding Areas
Visiting Angels is proud to have the opportunity to provide essential personal home care for seniors living in Jonesboro, GA, and the nearby areas, including Ellenwood, Riverdale, College Park, South Fulton, Cliftondale and Morrow
You may have read about home care for seniors when searching for solutions for age-related difficulties for your loved one. Arranging professional care at home for an elderly loved one has many advantages over nursing homes, such as preserving your loved one's independence and helping them live out their golden years in familiar surroundings. But how can you arrange professional care for your loved one? What agencies in the Jonesboro area are the best? How can you be certain that the caregiver you hire has your loved one's best interests at heart? Visiting Angels Jonesboro can answer these questions and more.
At Visiting Angels Jonesboro, our in-home senior care services typically consist of a number of services that together ensure that your loved one can maintain their independence as they age. An independent lifestyle is now available to older adults living in Morrow, Ellenwood, Lake City, Riverdale, College Park, South Fulton, Cliftondale and the surrounding communities. We are also available to provide respite care services to family caregivers who may be in need of a bit of a rest.
Why Choose Visiting Angels Jonesboro for Home Care for Seniors
Here at Visiting Angels Jonesboro, we understand that each older adult is an individual. We understand that each of the seniors we care for has their own particular needs, preferences, schedules, goals and aspirations, which is why we tailor our senior care services to each client. We begin with a free in-person care consultation. It is at that time that we discuss how we provide home care for seniors and address any concerns you may have about our services, pricing, qualifications and anything else you'd like to know. Next, we will select a compassionate caregiver and make sure they are a good match for your loved one.
Our caregivers can assist with your loved one with:
Planning and preparing meals
Bathing and showering
Getting dressed
Grooming
Getting in and out of bed
Getting around the house
Light housekeeping
Reminding them to take their medication
Running errands
Providing transportation
Incontinence care
Meaningful companionship
And so much more
Of course, not all older adults have the comfort of planning ahead for their in-home senior care needs. Unexpected situations do happen, but your loved one's care will be no less personalized for it. We accommodate last-minute care requests, but we will still work with both you and your loved one to make sure the care they are receiving is working for them.
The great thing about Visiting Angels Jonesboro, and what sets us apart from many senior care providers, is that we are available for assistance to older adults who are hospitalized or have moved to an assisted living facility.
To learn more about home care for seniors from Visiting Angels, please call our Jonesboro, GA office today at 678-883-7217 or fill out our contact form.
Serving Jonesboro, College Park, South Fulton and surrounding communities of Cliftondale, Heritage Park, and Red Oak, GA
Visiting Angels Jonesboro, GA
238 Stockbridge Rd #206
Jonesboro, GA 30236
Phone: 678-883-7217