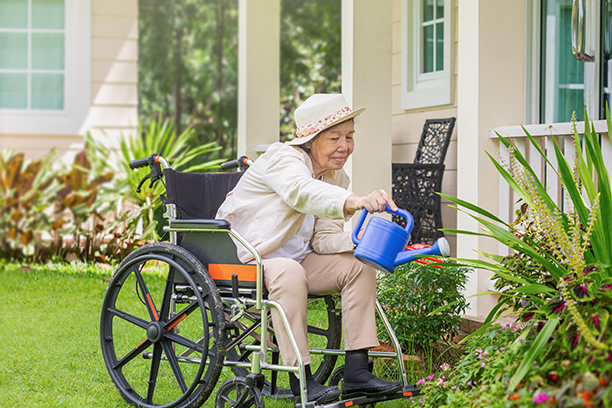 Lewy Body Dementia Care in Joplin, MO
Dementia care is available for seniors in Joplin, Carthage, Neosho, Lamar, Monett, Mt. Vernon, MO, and the surrounding area
As the condition advances, seniors diagnosed with Lewy Body Dementia will eventually require round-the-clock care. It's difficult to watch a loved one's health deteriorate due to dementia, and it's much harder to get the correct care. Many families decide to place their elderly relatives in an assisted living facility. On the other hand, the unfamiliar surroundings may degrade their quality of life.
In-home care is still the best option for many elders with Lewy Body Dementia. On the other hand, many family caregivers are unprepared to deal with dementia symptoms when caring for elderly relatives.
For those suffering from Lewy Body Dementia, Visiting Angels of Joplin provides excellent senior care. Our skilled and caring caregivers can aid your loved ones in managing their symptoms and completing daily tasks. We ensure that seniors with this disease receive the support they need to live out their golden years in the comfort and familiarity of their own homes by caring for them.
What is Lewy Body Dementia, and how does it affect you?
Lewy Body Dementia is the second most common type of dementia, affecting 1.4 million people in the United States. Smooth, circular clumps of protein in the nerve cells of damaged brain areas, also known as Lewy bodies, cause this condition. Like many other forms of dementia, this condition is progressive, which means that your loved one's symptoms will worsen over time, necessitating advanced care.
The following are some of the most common symptoms of Lewy Body Dementia:
Memory loss, both short and long-term
Impairment of executive function
Incomprehension and agitation
Visual hallucinations
Mobility difficulties, including shakes and sluggishness
Body functions such as blood pressure, digestion, and sweating are less well regulated.
Sleep problems, including physically acting out nightmares
Disorganized Speech
How can Visiting Angels of Joplin dementia care benefit my loved one?
Although there are treatments for various symptoms, there is no cure for Lewy Body Dementia. If a loved one has been diagnosed, they should seek professional help as soon as possible, significantly as the disease advances.
Visiting Angels of Joplin has cared for seniors with Lewy Body Dementia for many years. Our caregivers have the experience, education, and compassion to provide our clients with high-quality in-home care. We can not only aid with personal care responsibilities, but we can also keep your loved ones safe, control their symptoms, and ensure that they are comfortable for years to come.
For older people with Lewy Body Dementia, we offer the following senior care services:
Meal preparation and planning
Some light cleaning
Assist with mobility, such as transferring and positioning
Personal hygiene assistance, such as bathing, grooming, and clothing
Taking care of incontinence and toileting
Reminders to take medications
Preventing wandering
Preventing falls
We also provide regular monitoring when caring for seniors with Lewy Body Dementia. We'll be able to keep you informed of your loved one's needs alter or if we suspect their sickness is progressing. You'll have a second set of eyes and ears on your loved one, and you'll have peace of mind knowing they're in good hands.

Serving Joplin, Carthage, Neosho, Lamar, Monett, Mt. Vernon, MO and the Surrounding Areas
Visiting Angels
JOPLIN, MISSOURI
1736 S Main St,
Joplin, MO 64804
Phone: 417-781-1000