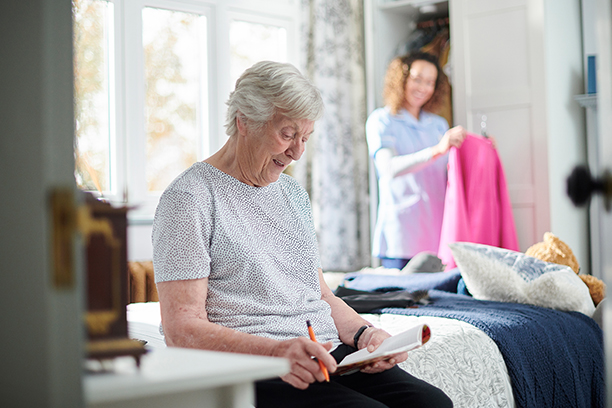 Mobility Care
Visiting Angels of Joplin Care Services Enable Seniors to Participate in Activities Outside Their Home
Visiting Angels of Joplin provides elder care and mobility assistance to seniors in the Joplin, Missouri area. Our carers assist customers in gaining independence and confidence while also supporting their lives by giving more freedom and enjoyment than they could on their own. Clients who begin working with a caregiver are no longer confined to their home or bed; rather, their entire life changes. Their lives grow more abundant with opportunities.
Improve your quality of life by improving your mobility
It might be tough to care for a loved one at home on your own. Everything from doctor's appointments to feeding regimens can take up a large amount of your time, which is why it's vital to weigh your options for elder care. Bringing in an elder care professional benefits both you and your loved ones. Your loved one will engage in and appreciate ordinary things like walking in the park, seeing friends, doing their grocery, and going to the museum with the support of a compassionate and trustworthy caregiver. Your loved one's emotional, mental, and physical health will improve as a result of the independence that comes with freedom.
The Reassurance that a Helping Hand is Near
Other elder care solutions are available for seniors who are unable to move; aid includes positioning and transferring. There are several circumstances where elders have restricted movement and must remain in bed. When this occurs, caregivers can aid with adjusting and relieving the body regions that are feeling the most discomfort. This help allows respiration and digestion, as well as muscular action, to be supported adequately.
Having Fun When Your Physical Capacity Is Limited
We get our elders moving by taking them on a leisurely walk around some of Joplin, MO's lovely locations. Our carers also like engaging their clients in calm afternoon activities such as birdwatching.
The examples above are just a handful of the many ways that our elder care alternatives can give our elderly customers fresh independence. Non active elders had poorer rates of mental and physical health, according to research. This is why Visiting Angels of Joplin works so hard to provide home care that allows lonely elders to get outside on a regular basis. Seniors in Joplin, MO may have enjoyment again when they participate in social events and enjoy frequent company.
Contact us now to explore how our elder care services may benefit your loved one in Joplin!
Visiting Angels professional caregivers can assist your loved one with:
Showering or bathing
Dressing and Undressing as needed
Incontinence care and toileting
Grooming
Putting makeup on
dental hygiene assistance
These services are frequently too complex for untrained individuals, which is another reason why most seniors feel more at ease obtaining personal home care from a qualified expert.
You may relax knowing that our highly trained caregivers can assist your loved one in the bathroom with personal care requirements. Visiting Angels of Joplin is glad to provide customized care plans, affordable costs, and care assistance from discreet and courteous caregivers.
Connect with Our Care Team
If you feel that one of our home care assistance programs might benefit you or a loved one, please do not hesitate to contact us. Our staff is happy to offer you with whatever information you require to help you make the best decision for yourself or a loved one.
Serving Joplin, Carthage, Neosho, Lamar, Monett, Mt. Vernon, MO and the Surrounding Areas
Visiting Angels
JOPLIN, MISSOURI
1736 S Main St,
Joplin, MO 64804
Phone: 417-781-1000