Dementia Care Services in Overland Park: Tips for Making Every Day Easier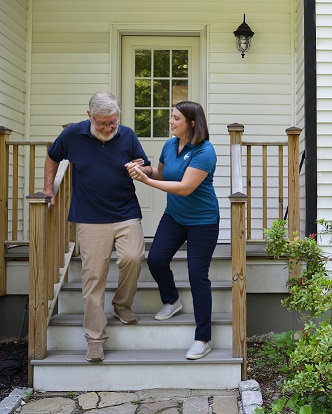 Remaining at home is beneficial for all seniors, but for those with memory-based disorders, it can be even more important. The familiarity and comfort of home can allow seniors with this affliction to enjoy reduced anxiety and a more positive daily life. With dementia care service for seniors in Overland Park, Visiting Angels® Kansas City can help you preserve your loved one's home life and keep them out of a care facility.
Our home care is a great way to provide a happy and healthy living situation for your loved one. As part of our commitment to helping your family, let's start by going over some additional steps you can take to make their life easier.
How to Support Your Loved One with Dementia
Here are some ways you can contribute to a happier, healthier, and safer home life for your loved one:
Preserve their routine. Seniors with dementia are much better off with a defined daily schedule. Help them establish and maintain a routine, as this will create stability, familiarity, and added comfort in their daily life.
Provide memory assistance. As their memory begins to decline, it is up to you to make sure they are properly following their medication schedule and keeping up with medical appointments.
Have fun with them. A great way to boost morale and bond with your loved one is to make time to share their favorite activities.
Be loving and respectful. Most importantly, your goal should be to provide a stable, kind, and patient presence that makes them feel safe, loved, and secure.
Take Advantage of Our Dementia Care Services in Overland Park
Caring for a loved one with dementia can be very difficult, but with our help, you can create a much more sustainable plan. We can provide flexible assistance as often as you need, allowing you to take more frequent breaks without any downgrade in your loved one's quality of life. We are eager to work with your family during our free initial care consultation to understand your needs and figure out the best way to help your loved one.
Our dementia care services are available throughout:
Overland Park
Mission
Kansas City
Shawnee
Lenexa
Prairie Village
Leawood
And the surrounding areas
For more info about our dementia care in Overland Park, call Visiting Angels Kansas City to set up your no-cost care consultation today.