Prevent Wandering with Dementia Care Services in Kansas City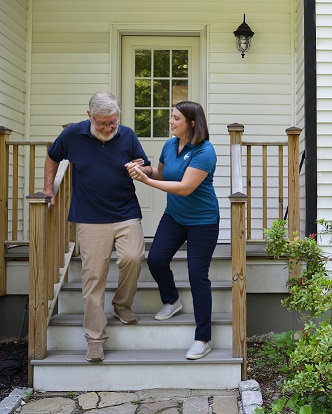 With dementia care services from Visiting Angels® Kansas City, your loved one can enjoy a safer and more satisfying home life. We work hard to provide the assistance local seniors need to remain at home and avoid the move to a care facility. For those with dementia, remaining in a calm, peaceful, and private home environment can help them to cope more successfully with their disorder, and we are eager to help make that possible.
Our service includes a variety of senior care duties depending on each person's specific needs. Regardless of the exact situation, our goal is to improve home safety and comfort while helping family members understand the struggles that dementia can bring. To get started, we'd like to go over the issue of 'wandering'. This is a common problem that occurs when a dementia sufferer fails to recognize a once familiar setting. In these cases, they end up walking away and wandering freely with no specific direction.
Warning Signs of Wandering
Wandering can be very dangerous and stressful for all involved, so it's crucial to stay on top of the warning signs. Here are some indications that your loved one may eventually suffer from a wandering episode:
Disorientation
Do they ever fail to recognize their own home?


Time Confusion
Have you ever heard them talk about the past as if it is the present?


Stress
Does your loved one get nervous and agitated when they are in a crowded public place?


Slow Movements
Do basic tasks take them longer than they used to?
Trusted Dementia Care Services for Kansas City Area Seniors
Dementia brings plenty of challenges, so it's important to give your loved one every possible advantage. Living at home instead of in a care facility is a great start. A home life offers privacy, dignity, and familiarity, which can be extremely important for someone in this condition. Our mission is to offer the helpful assistance many seniors require to safely manage their home life and avoid the need for a care facility.
We offer flexible scheduling and a wide range of care options to suit different needs. To figure out the best way we can help your loved one, we invite you for a free initial care consultation where we can discuss all of this in more detail.
Our customized dementia care services are available in:
Kansas City
Prairie Village
Lenexa
Leawood
Mission
and the surrounding areas
For more info about our dementia care, contact Visiting Angels Kansas City to schedule your free care consultation today.