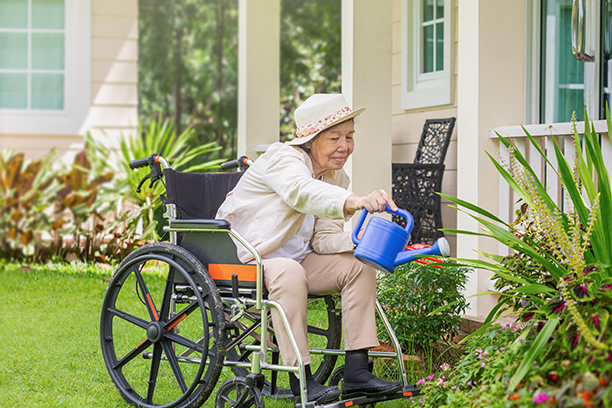 Dementia Care in Overland Park
How To Help When They Say They Want To Go Home
With our dementia care in Overland Park, Visiting Angels® Kansas City helps local families support their senior loved ones. A common situation you might encounter when your parent or relative is diagnosed with the disorder, is that they often say "I want to go home," even when they are already home. This is their attempt to communicate something else, and your response to the situation is very important.
They are suffering from a reduced ability to communicate, so instead of expressing their physical pain, sadness, loneliness, or other issues, "I want to go home" is all they can muster. It is important for you to remain calm and refrain from any sort of argument. Attempting to explain they are already home will only lead to further frustration.
In such moments, your relative is probably very stressed and confused, so you can help them the most by remaining calm and letting them know you are there for them. Listen to what they are saying, even if it makes no sense. Play their favorite music, give them a hug or distract them with a basic task. These are all great ways to reduce their anxiety and redirect their attention.
Our Professional Dementia Care in Overland Park
For most seniors, remaining at home and avoiding the assisted care facility is a top priority. For those with dementia, this can be even more important. That's because this disorder attacks their memory, so retaining a familiar living space can make for a much more comfortable life. We are proud to offer the in-home assistance needed to keep more dementia-suffering seniors in their homes. We provide:
Customized assistance to make their life easier
Accident prevention and mobility support
Loving companionship to boost their mental state
Medication reminders and other memory help
A critical respite for caregiving relatives
And much more!
Dementia Care To Help The Whole Family
Our assistance is the ideal solution for families in this situation. Not only do you get to provide kind and professional care for your loved one and allow them to remain at home, but you also get to relax and reduce your own stress. We provide flexible service to step in whenever you need, so you don't have to take on the full weight of their care duties on your own.
We offer our dementia care to families throughout:
Overland Park
Kansas City
Shawnee
Prairie Village
Lenexa
Leawood
Mission
And nearby areas
For further details about our dementia care in the Overland Park area, contact Visiting Angels Kansas City to book your care consultation today.
Serving Kansas City, Johnson County, North Kansas City and Surrounding Communities
Visiting Angels KANSAS CITY
8680 W 96th St #200
Overland Park, KS 66212
Phone: 913-912-1260