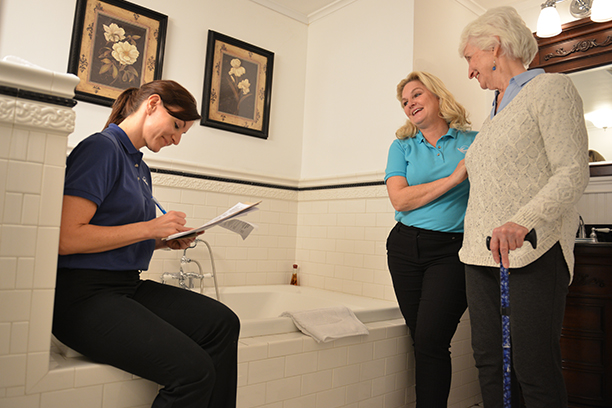 Who We Are
Visiting Angels Mission & Core Values Statement
Family
We value families- the families that we serve, our own families & our work family

Work team = Family
Empathize with client's family & friends
Emphasize work/life balance
Build relationships with clients and their families
Treat each other, clients and their families the way we would want to be treated

Teamwork
We work together to provide the highest quality of care to our clients

Encourage & support all staff & caregivers
Work together to ensure that quality care is provided to the client
Look for ways to go above and beyond to provide support, encourage and coach team members
Refer to conflict resolution plan when issues arise within the team and proceed with humility
Above all respect & value every member of the team

Kindness
We handle our clients and each other with graciousness & compassion

Are gracious,kind & compassionate while managing client care
Are gracious, kind and compassionate when working with fellow team members
Work together to ensure that quality care is provided to the client
Look for ways to go above and beyond to provide support
Practice empathy with each other, our clients and their families

Integrity
We keep our commitments & hold ourselves to the highest standard

Do our best within our capabilities
Seek out opportunities to learn & grow both personally and professionally
Hold ourselves and our team members to the highest standard
Work together to ensure that quality care is provided to the client
Show up fully and keep our commitments
Assist clients and their families with coordination of care with other agencies

Generosity
We are generous with our time & resources

Are generous with our time & information and are a valuable resource
Are willing to go above and beyond to ensure quality care
Work together to ensure that quality care is provided to the client
Look for ways to go above and beyond to provide support
Visiting Angels is committed to providing the highest quality care to individuals in the Tri-Cities and Walla Walla. Our team is made up of generous, compassionate, kind caregivers and staff that ensure that clients are treated as family.
Our commitment to excellent care includes the well being of our staff and caregivers. By making continued education and personal development a priority we ensure that our clients are always receiving the absolute best care possible.
Our core values are teamwork, kindness, generosity, integrity and family.
Serving Tri-Cities, Walla Walla and Surrounding Areas
Visiting Angels
KENNEWICK, WA
10 N. Washington St. #120
Kennewick, WA 99336
Phone: 509-582-7800
Fax: 509-582-7888