How to Conduct an Oral History Interview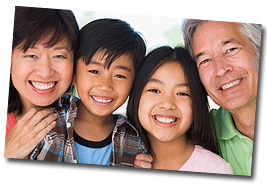 Your grandparents, aunts, uncles and parents hold a lifetime of wonderful memories, but it's common for the stories and experiences to be kept inside and not shared with younger generations. This can prevent you from enjoying the priceless stories and insights only your loved ones can offer. In order to capture the magic of your loved one's past, we encourage you to conduct an oral history interview using the record function on your cell phone.
Many elderly have a strong desire to share their stories, but lack an outlet or audience willing to listen. We encourage you to set aside a time at the next family event to record a history interview with your loved one and change this trend. They will be happy to share their life story with you.
Choose to connect with your loved one by asking all or some the following interview questions. Keep in mind that questions can be asked over several sessions. And don't forget to ask follow up questions when particularly interesting information is shared!
How was your name chosen?

What were things like when you were growing up?

What are your most fond memories of childhood?

What kind of house did you grown up in?

What is your favorite memory as a child?

What do you know about your family's heritage?

What do you remember most about your grandparents/great grandparents?

Which holiday traditions do you remember most from childhood?

What do you remember most about the oldest person in your family while you were a child?

What chore did you hate the most as a child?

What do you consider to be the most important invention during your childhood? Lifetime?

How has the world changed throughout your life?

What are your favorite types of books to read?

Was there ever a time when your family didn't have enough food to eat?

What were you favorite toys as a child?

Did you enjoy your school? What was it like?

Where did you and your friends hang out?

Did you receive any rewards for your school achievements?

How many years of school did you complete and where?

What were the most memorable fads during your youth?

At what age did you start dating?

How did you meet your spouse? What was the first date like?

Please describe your wedding ceremony.

What was your honeymoon like?

Any advice for your grandchildren about marriage?

What is the most difficult thing about raising children?

What is the best thing about being a parent?

What did you want to be when you grew up?

What was your first job?

How did you choose your career as an adult?

What were some of the hardest life decisions you had to make?

Who had the most positive influence in your life? Can you tell us about them?

Did you serve in the military? What was it like?

How did the social changes in the U.S. impact your life?

What major health problems did you experience?

How would you like to pass your faith along to your children/grandchildren?

What have been your favorite activities as an adult?

Where have you traveled? What has been your favorite trip?

What have you always wanted to do, but never done?

What lessons did you learn from you father?

What lessons did you learn from your mother?

Talk about your proudest moments.

When have you been the most frightened?

Which parent are you most like and why?

What was the most important historical event in your life?

Do you recall your earlier memory? What was it?

What would you change in your past if you had the power?

What in your life has provided the greatest satisfaction?

What was the first impression of your spouse?

What was your proudest moment as a parent?

Which of your children is most like you?

What was the most exciting day of your life?

What is the main thing you'd like people to remember about you?

In what ways has the world changed since you were young?

Does the idea of death frighten you? Why or why not?

Which life event hurt you the most?

Which life event strengthened you the most?

What is your perspective on money?

Did you argue with your parents much as a teenager? Over what?

What would you consider to be your greatest talent?

What talent do you wish you had?

What would be your great weakness?

What is the most important object you own and why?

Do you wish you could change anything about your educational experiences?

What invention during your lifetime had the greatest impact on you?

If there is one piece of wisdom you could pass on to your descendants, what would it be?

What could you not live without in your life

How would you like to be remembered by your family?
We encourage you to use these oral history questions as a springboard for other ways to engage with your loved ones. You'll never regret the quality time spent with your loved one.
Since there's usually a time constraint at large family gatherings, plan to ask the most important interview questions in private. Choose a few of the broad questions and give them time to think about how they would like to answer; lengthy periods of talking can be taxing for many seniors.
You can ask these historical interview questions to liven up family gatherings throughout the year. This is the perfect project for bringing together generations of relatives in an engaging way, and your loved ones will be happy to share their life story. You will also want to record the oral interview answers in a book for family members to enjoy in the years to come. Then give the book to your loved one and they can also enjoy reading their history interview.
If you're interested in our compassionate
home care
services for you or a loved one, contact your nearest Visiting Angels
home care agency
today or call 800-365-4189.