Arthritis Pain Treatment Strategies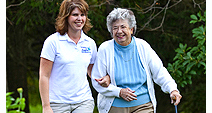 As in home care providers, the staff at Visiting Angels has seen the effects of arthritis time and time again. Arthritis can be uncomfortable at the best of time and utterly debilitating at the worst. While nothing can completely cure arthritis, there are strategies that can help alleviate arthritis and joint pain. If you're suffering from arthritis, consider speaking with your doctor about which of the following might be most effective for you.
Regular Movement
One of the most effective ways to avoid and reduce arthritis pain is to avoid staying still for extended periods. Make sure to shift positions every half-hour or so.
Manage Your Weight
Extra weight means extra stress on your joints. Keeping your weight down can help reduce pain and inflammation.
Get the Right Exercise
Certain joint-gentle exercise programs, such as water aerobics, can help build muscle strength to better support your joints.
Avoid or Quit Smoking
Studies have shown that tobacco smoke has a negative effect on joint health. Of course, tobacco smoke has many other harmful effects, so quitting is a good idea regardless of your joint health.
Go Easy On Yourself
Avoiding high-stress exercises, such as running or jumping, and finding strategies to avoid using your joints wherever possible can help reduce instances of pain.
Increase Omega-3 Fatty Acids in Your Diet
Not only do omega-3 fatty acids have a load of other health benefits, they also help increase joint health and reduce inflammation.
Distract Yourself
Reducing pain can be as easy as giving yourself something else to think about, especially for short bursts of pain.
Stretch
Certain stretches and stretching regimens can help keep muscles relaxed and improve range of motion.
Use Hot and Cold Treatments
Both heat and cold – whether used on their own or in tandem – can be effective in reducing joint pain and muscle soreness. It is possible to overdo these treatments, however, and they should only be used for 15-20 minutes at a time.
Relax
Rest and relaxation can be a fantastic way to both reduce and recuperate from joint pain. Techniques such as deep breathing, meditation, or even cognitive behavioral therapy can be helpful in getting your joints, your muscles, and your mindset in the right place.
Doctor-Advised Medication
Certain over-the-counter medications, such as ibuprofen or aspirin, can help relieve pain caused by arthritis. As with hot and cold treatments, you need to be careful about not overusing medications, so speak with your doctor about safe use.
And remember, if you use the assistance of an in home care provider, let your care provider know about the strategies you'd like to use to manage your pain. Visiting Angels in home care providers help patients with arthritis by performing errands and tasks made difficult by joint pain and by providing support to care recipients in their treatment.
Sources: Health.com, The Arthritis Society, Mayo Clinic
If you're interested in our compassionate
home care
services for you or a loved one, contact your nearest Visiting Angels
home care agency
today or call 800-365-4189.