Classic Christmas Specials & Movies to Brighten Seniors' Holidays
Last updated on February 15, 2022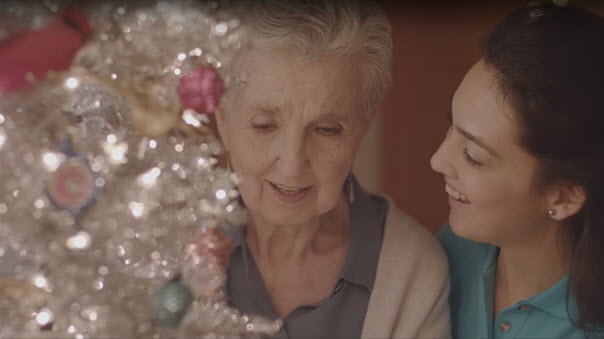 Looking for a classic Christmas special or movie to share with a senior this holiday season? If so, you're not alone. After all, it can be tough to pick out the perfect Christmas gift for an elderly family member. When you've lived as long as our parents, grandparents, and great-grandparents have, material gifts fall by the wayside to good company and warm memories.
But in the internet age, it's now easier than ever to make those warm memories a gift of their own. By finding the classic Christmas specials and movies your loved one grew up with, you can open a door to merry and bright Christmas mornings from decades past.
To help, Visiting Angels has compiled a list of classic Christmas movies from Hollywood's Golden Age, plus classic Christmas specials from radio and TV. We hope this list will make it easy to find a long-lost favorite from your loved one's younger years and bring warmth to your home this holiday season.
Merry Christmas and Happy Holidays!
Classic Christmas Movies
The 40s and 50s were the Golden Age of Hollywood. So, it's no surprise that they were also the Golden Age of tinsel in Tinseltown. While some of the most well-known classics of this period still receive regular airings on TV, others live on in the memories of those who first fell in love with Christmas while watching them.
Classic Christmas TV Specials
Many seniors came of age as television first became a truly national phenomenon. As a result, many of the TV specials thought of most fondly by older family members come from TV's first big decade, from 1950 to 1960. While it can be hard to track down some of these specials, many of them are available for streaming as single episodes online.
Classic Christmas Radio Specials
While classic Christmas TV specials and movies are often easy to find each holiday season, it's been tough until recent years to find classic radio specials from the 40s, 50s, and 60s. But it's now easy to find older Christmas radio specials, many of which are available for free online.
Here are a selection of specials from some of the most popular radio shows of Christmas past:
Take the worry out of the holiday season this year with care from your local Visiting Angels.
If you're interested in our compassionate
home care
services for you or a loved one, contact your nearest Visiting Angels
home care agency
today or call 800-365-4189.