Father's Day & Senior Home Care: Great Gift Ideas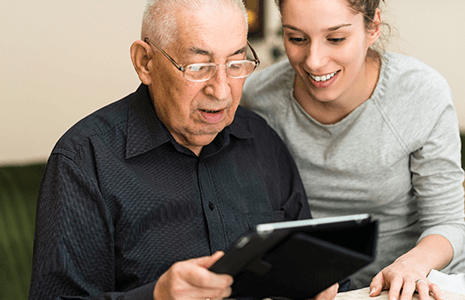 With Father's Day just around the corner, finding the right gift for dad is on everyone's mind. But when your father requires senior home care, the right gift can sometimes be tough to pin down.
At Visiting Angels, our senior home care providers see fathers light up every year with the right gift on Father's Day. With our years of senior home care experience, we know that the best gift for your aging or elderly father can be a new tool, a great book, or just a small or unexpected gesture.
A New Tablet
It used to be that new technology was off-putting and confusing for seniors. But the current wave of tablets and touch devices are so user intuitive and elder-friendly that seniors all over America are quickly falling in love with tablets. A tablet can be a great way for your dad to keep in touch with friends and family or watch his favorite movies and TV shows.
Warm Socks or Slippers
Many elderly persons have problems with circulation, causing their extremities to feel colder more easily. If your dad regularly complains of cold feet, he may appreciate a selection of thermal socks or a pair of comfortable, fleece-lined slippers.
Dinner on You
Senior home care recipients sometimes don't get as much of a chance to leave the house for a nice dinner out. If your father cannot leave the home due to health or mobility issues, see if you can have his favorite meal delivered to his home. He'll enjoy that gift even more if it comes with the pleasure of your company!
Large-Print Books
Does your father love reading? If so, take the chance to pick out a large-print edition of a powerful biography, a compelling historical narrative, or that one Tom Clancy novel that's still missing from his shelf.
Help Around the Home
Some fathers prefer a helping hand with household tasks – especially if those tasks have become difficult due to age. Weeding, intensive cleaning, or household repairs are some common tasks that make a great, cost-conscious gift
Your Time & Companionship
The very best gift you can offer your father is your presence. Simply taking the time to sit down and spend time with your dad this year is something your father will undoubtedly appreciate. While a small token of appreciation can help, often this is all your father needs for a great Father's Day.
If you're interested in our compassionate
home care
services for you or a loved one, contact your nearest Visiting Angels
home care agency
today or call 800-365-4189.