Growing Older – Garden Care Tips for Seniors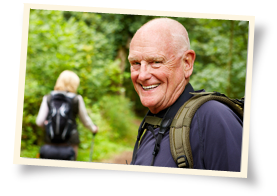 With spring upon us, millions of Americans are getting out their spades and hand rakes for gardening season. Gardening is great for everybody, but it can be particularly beneficial to seniors. With a variety of health and emotional benefits, gardening is one of the best low-impact activities for seniors, including those with mild physical limitations, memory problems, or those who require various forms of senior care.

"Gardening is an extremely healthy and rewarding activity for seniors," says Larry Meigs, CEO of Visiting Angels. "Staying active is vitally important for seniors. As a long time member of the senior care community, I can't stress how important it is for seniors to have mental, emotional, and physical outlets. Gardening provides all three."
The benefits of garden care for seniors are plentiful. Studies have shown that low-impact exercise, such as gardening, can drastically reduce seniors' risk of injury and physical conditions like osteoporosis. Gardening helps seniors maintain – or even increase – flexibility and strength. What's more, gardening provides a peaceful, engaging activity. This can be therapeutic, helping to relieve emotional stress for lonely or frustrated seniors. Gardening can even provide a therapeutic outlet for Alzheimer's sufferers.
Safety & Care Tips for Senior Gardening
Of course, as with any physical activity, it's important that seniors take care when they garden to prevent exhaustion or injury. With that in mind, here are some tips if an elderly loved one has a budding green thumb.
Limber Up. Reduce the risk of joint stress and cramps by have your loved one stretch and warm up with a walk before gardening.
Choose the Right Tools. Make sure your loved one has the right tools for each job to reduce the effort and joint stress caused by digging, raking, and other activities. Experts suggest strong, lightweight, ergonomic tools with comfortable rubber handles.
Protect Hands & Skin. Have your loved one wear durable gardening gloves to protect hands against thorns, branches, brambles, and roots. Have them apply sunscreen before starting work to protect any exposed skin.
Avoid Heat & Sunlight. To avoid sun stroke, sunburn, and dehydration, suggest that your loved one garden during the morning or evening when it's cooler and use shade to their advantage. Make sure they stay hydrated by drinking lots of water and taking regular breaks.
Increase Ease of Access. Try to ensure that your loved one's garden and plants are as easy to access as possible. Raised beds and narrow plots can help keep your loved one out of uncomfortable positions.

Break Up Tough Tasks. Have your loved one break tough jobs like weeding into five minute pieces, taking breaks in between to relax or do easier jobs.

If you have an elderly relative or loved one who loves to garden, but finds the activity increasingly difficult, senior care from your local Visiting Angels home care provider may be the answer. Contact your local Visiting Angels office to find out if senior care is right for your loved one.
If you're interested in our compassionate
home care
services for you or a loved one, contact your nearest Visiting Angels
home care agency
today or call 800-365-4189.