How Seniors Can Live Green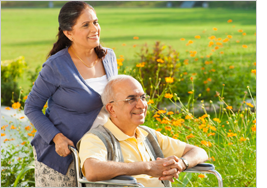 Eco-friendly living trends continue to sweep the nation, encouraging everyone to keep the environment safe and healthy. While eco-friendly living is a goal anyone can achieve, it's often difficult for caretakers and seniors to go green due to the amount of time it requires. However, prioritizing green home practices can make it easier to be environmentally friendly. As our world seeks to become more sustainable, seniors and caretakers can take note of the following green living tips.
Plant a Home Garden. Many elderly people find it difficult to get around. When it becomes more difficult to attend favorite activities, seniors can have a positive impact on the environment by planting a garden. According to the National Wildlife Federation, there are specific ways to garden in a sustainable way including mulching and removing invasive plant species. Seniors can remain active by planting a garden and growing plants themselves. Seniors who engage in tiling soil and watering plants are more likely to embrace green living habits.
Eat Organic. Seniors are more susceptible to diseases due to a less effective immune system, so processed foods can sometimes pose a danger to their health. If you help a loved one plan and/or prepare their meals, encourage them to choose fresh and organic vegetables and fruits. A diet rich in fruits and vegetables can help everyone stay healthy. Of course, before making any major changes to your loved one's diet please consult their health care professional.
Open Up the Windows and Get Some Fresh Air! It can be difficult for senior citizens to go green indoors, but caretakers can take measures to improve the air quality. Many types of "good" bacteria (microbes that contribute to overall immune system health) are excluded from the home, which leads to less pure air quality. Open up the kitchen window periodically to breathe in some fresh air.
Take a Sip Out of Reusable Coffee Mugs. It's good to enjoy a few warm cups of coffee, especially during these winter months. But throw-away cups can be bad for the environment. Nature.org reported that paper coffee cups are made with a plastic called polyethylene, which prevents it from being recycled. Seniors can begin living green by drinking out of reusable mugs instead of paper or plastic cups.
Seniors and caregivers who practice green living tips help the environment and can have a positive impact on their personal health and well-being.
If you're interested in our compassionate
home care
services for you or a loved one, contact your nearest Visiting Angels
home care agency
today or call 800-365-4189.