Living Longer Means Living Well for America's 100+ Year-Olds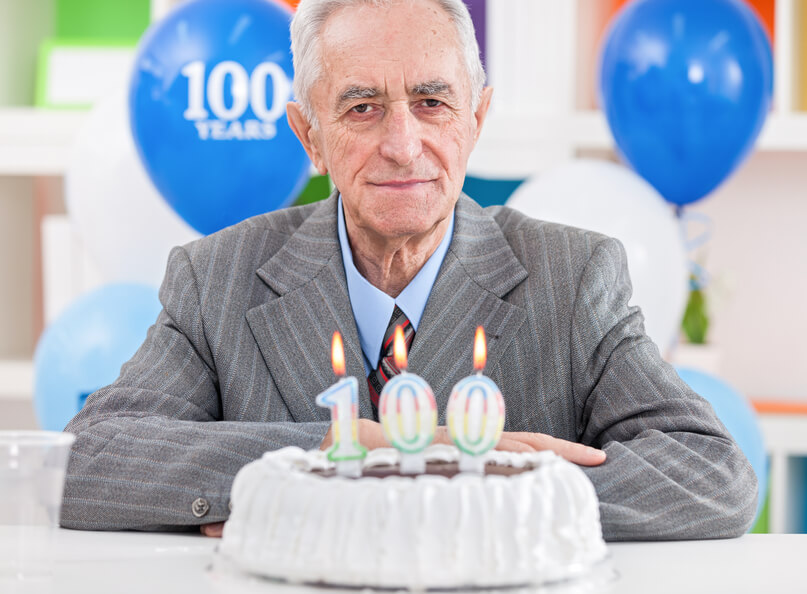 Here's something that might amaze you: over 70,000 Americans are 100 years old or older. That means that more Americans are living in triple digits right now than are living in Santa Fe, Daytona Beach, or even Iowa City!
But are American centenarians living well? In the elder care community, quality of life is always a concern. After all, living happily into your 80s and 90s is one thing—but it's another to go through those years facing pain, discomfort, or chronic illness.
Thankfully, America's 100+ year-old population seems to be doing better than ever. According to new research, the extra years enjoyed by centenarians are truly a blessing. Here's why…
100+ Year-Olds Live Healthier
According to new research by the Albert Einstein College of Medicine in New York, data suggests that Americans who live to see triple digits do so without suffering from poor health in their later years.
This is somewhat surprising, since the increase in American life expectancy has generally been linked to poor health in later life. The fact is that while 21st century medicine helps people live longer, those extra years are often filled with difficulty, requiring further health care or elder care.
But for those who live exceptionally long lives, the extra decades are truly a blessing. According to research by the AECM as part of the Longevity Genes Project, seniors who grow to be 100 or older spend their 70s, 80s, and even 90s in good health.
The researchers in this study found that debilitating disease and disability occurred much later in life for those who live to 100 or older. In the study, the majority of centenarians spent their 70s and 80s at a much lower risk than their peers for diseases like cancer.
More Importantly, They Live Happier
As any elder care expert can tell you, health is only part of the quality of life equation. Happiness and positivity also have major impacts. In these categories, centenarians are also doing exceptionally well.
According to UnitedHealthcare, a medical care network, America's centenarians are happier than the rest of the population; often feeling more than twenty years younger than their real age. For the past ten years, the network has spoken with American centenarians for their 100@100 survey. This year's survey showed that the average 100-year-old feels as well as a 79-year-old. Even more importantly, more than 62% of respondents reported having a positive, happy outlook. In fact, those surveyed said that a positive worldview was the most important factor in a long, healthy life.
Of course, even healthy, happy seniors sometimes need a helping hand. If you have an elderly loved one in your life, whether they're sixty-five or one-hundred-and-five, consider elder care from Visiting Angels.
If you're interested in our compassionate
home care
services for you or a loved one, contact your nearest Visiting Angels
home care agency
today or call 800-365-4189.