Preventing Heart Disease in Women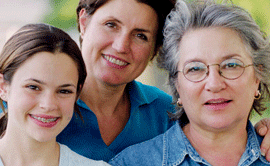 While heart disease usually occurs later in life in women than in men, Coronary Heart Disease (CHD) remains the #1 killer for both genders. Women are more likely than men to suffer from two other forms of heart disease: Coronary Microvasculature Disease (MVD) and Broken Heart Syndrome. Currently, 1 in 4 American women die due to heart disease.

That's the bad news.

The good news is that we understand heart disease better than ever today. Because of this, there are steps you can take to reduce your risk of developing CHD, Coronary MVD, or Broken Heart Syndrome.

The first step is to know whether or not you're at risk.

Each variant of heart disease has its own specific risk factors, and it's important to know the differences between these variants. CHD, for instance, involves the buildup of plaque deposits in a person's arteries (a condition called atherosclerosis), leading to poor circulation and a high risk of blockages. Coronary MVD, meanwhile, involves damage and irregularities to the artery walls themselves, and only occurs in smaller arteries. Finally, Broken Heart Syndrome occurs when great emotional stress triggers a traumatic heart event.

With this in mind, here is a list of risk factors for heart disease in women:
Age (especially for women over 55)

Menopause

High blood pressure

High blood cholesterol

Diabetes (this is a larger risk factor for women than men)

Metabolic syndrome (also a larger risk factor in women)

Obesity

History of smoking

History of poor physical activity

One or more pregnancy complications during your lifetime

Race (Black and South Asian women are at higher risk)

Family history of heart disease
Once you know your own risk factors, you can identify those which are under your control. Some, such as menopause or a family history, cannot be prevented. But other risk factors can be managed. Here are some steps you can take to reduce your risk of heart disease, or reduce its impact:
Monitor your health. Keep tabs on your blood pressure, cholesterol, and weight to know your level of risk. You'll also want to monitor yourself for signs of heart disease, such as angina or heart palpitations.
Follow doctor's orders. Make sure to listen to your doctor's advice. This may include prescriptions for medications such as aspirin or blood thinners.
Eat healthier. Reducing saturated fat, sodium, and cholesterol in your diet improves your outlook.
Exercise regularly. 30 to 60 minutes is recommended for women in good shape, while 60 to 90 minutes is recommended for those trying to lose weight. Consider breaking activity up into 10 or 15 minute sessions to make things easier.
Quit smoking. If you haven't already.
For seniors looking to reduce the risk of heart disease and its complications, Visiting Angels' elderly care providers can help. We aid care recipients with improvements in diet and exercise, give encouragement for those quitting smoking, and can help those with memory difficulties remember important doctor's appointments or medications.

If you feel you may be at risk for heart disease, please contact your doctor for a complete physical examination.

If you're interested in our compassionate
home care
services for you or a loved one, contact your nearest Visiting Angels
home care agency
today or call 800-365-4189.