Senior Care Tips & Activities for the 4th of July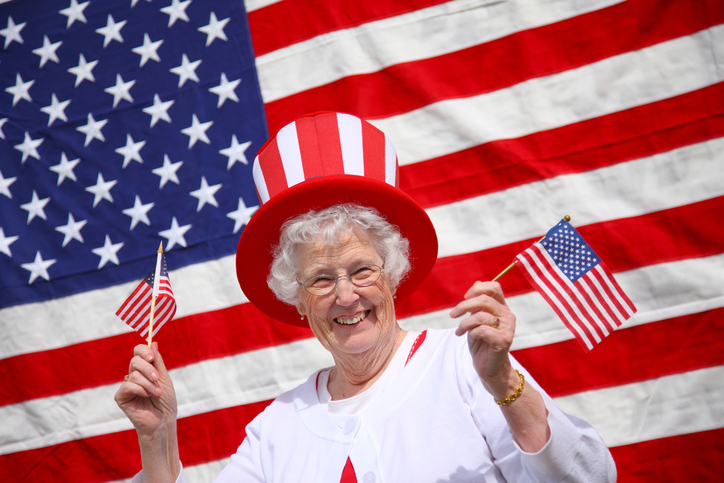 The 4th of July is a wonderful time to spend with friends and family celebrating the founding of America. But Independence Day celebrations can be difficult for seniors. Elderly family members may have trouble coping with the sunshine, heat, and activity that come with early summer festivities.
To help ensure everyone can join in this 4th of July, the have collected the following tips and activities for celebrating Independence Day with elderly family members.
Shield Seniors from Sun Exposure
Excessive sun exposure is dangerous for everyone, but it poses an especially high risk for elderly adults. More than ten minutes spent in sunlight can be dangerous for seniors and put them at a higher risk of skin cancer, so it's important to keep elderly adults protected from sunshine during 4th of July celebrations. Have seniors wear plenty of sunscreen and keep them in shaded areas as much as possible.
Offer a Retreat from the Heat
Even when seniors are kept out of the sun, they're still at significant risk for heat stroke. When enjoying the outdoors on a hot summer day, it's important that seniors keep cool and keep hydrated. Offer seniors plenty of fluids during outdoor activities, have them stay in cool areas, and check them regularly for signs of heat stroke. If possible, make sure that seniors have access to an air-conditioned indoor area where they can go if they are feeling overheated.
If your celebrations will continue into the evening, you should also be prepared for colder temperatures. Make sure that seniors have a light jacket and/or blanket in case they get chilly watching fireworks.
Don't Push Seniors Past Their Limits
Many seniors don't have the energy for day-long celebrations the way that younger adults, teens, and children do. So, it's important that older adults have the chance to take it easy and have quiet time if they need to recuperate. Make sure that a portable chair or wheelchair is always available so that your loved one has somewhere to sit, and bring any mobility aids that he or she may require.
Senior-Friendly 4th of July Activities
Senior care providers might consider the following senior-friendly 4th of July activities when celebrating with an elderly family member.
A backyard cookout is a classic July 4th activity for a reason and one that many seniors will be able to enjoy. Even if your mom or dad needs to avoid the sun or certain foods, the nostalgia and family time of a cookout can be a big boost to their emotional well-being. If your loved one has dietary restrictions or preferences, consider packing some of their favorite foods or adapting part of the menu to make it more senior-friendly.
During the hottest hours of the day, you can escape from the sun by watching classic American movies. Consider older movies with patriotic themes, like Yankee Doodle Dandy, Patton, Drums Along the Mohawk, Glory, or Mr. Smith Goes to Washington.
Many seniors enjoy crafting decorations or preparing food before 4th of July festivities. Stars and stripes decorations, paper flags, and red-white-and-blue Jell-O desserts are just a few senior-friendly ideas that you can make with your loved one.
No matter what you do this 4th of July, it pays to accommodate older relatives. "Taking the time to make Independence Day senior-friendly is rewarding for older and younger family members alike," says Visiting Angels CEO and President Larry Meigs. "After all, the 4th of July wouldn't be the same if the whole family couldn't enjoy themselves."
This Independence Day, Visiting Angels is celebrating the thousands of American seniors who continue living independently through our in-home senior care services. To learn more about senior care from Visiting Angels, contact your local office today.
If you're interested in our compassionate
home care
services for you or a loved one, contact your nearest Visiting Angels
home care agency
today or call 800-365-4189.