Senior Care Tips for Spring Cleaning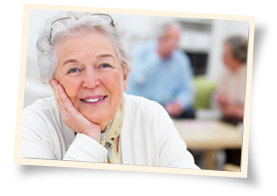 As the world shakes off another winter, it's spring cleaning season once again. At Visiting Angels, we look forward to spring cleaning each year. As America's senior care experts, we know how important a clean and clutter-free home can be for seniors.
"A clean home makes caring for a loved one that much easier," says Larry Meigs, CEO of Visiting Angels. "Yearly spring cleaning is a fantastic chance to evaluate and improve your loved one's home living conditions."
For some, spring cleaning might seem like a big job to tackle. But the benefits for seniors, especially those who require – or may soon require – senior care are too big to sweep under the rug. With yearly spring cleaning, you can:
Improve the safety of your loved one's home by eliminating hazards

Increase ease of living by reorganizing or replacing items

Evaluate your loved one's quality of life

Identify if increased assistance is needed
Easier Senior Care Spring Cleaning
With all that in mind, here are six tips to make spring cleaning easy when caring for a senior loved one…
Have a Plan. Before you start cleaning, make a checklist of the areas you need to cover and tasks that you want to accomplish. Go over this plan with your loved one and use their input to add to, modify, and improve your cleaning goals.
Invite Other Family or Friends to Help. Cleaning as a team makes spring cleaning easier and faster. More importantly, it gives you an excuse to get friends and family together, providing your loved one with company. Treat your loved one to a home-cooked meal or to dinner on the town with you and your fellow cleaners when the job is finished.
Involve Your Loved One. As any senior care expert can tell you, getting your loved one involved in any task is important. With spring cleaning, your loved one will be able to provide useful information about what should stay, what should go, and what should be moved for improved accessibility. Even better, if your loved one has the strength to help with lighter tasks, cleaning can be great exercise.
Go After Clutter First. Getting rid of clutter helps improve home safety. It also makes it easier to clean. Organize items and get rid of unused clothing, furniture, and appliances. It will make your job easier and your loved one's home safer.
Throw Out Expired Items. Having expired medication or food around can be dangerous – especially if your loved one struggles with memory issues. Do a thorough clean of your loved one's medicine cabinet, fridge, and pantry to reduce the risk posed by expired items.
Test Safety Precautions. When spring cleaning, use the opportunity to test any safety precautions or senior care safety items in your loved one's home. Check the secureness and stability of grab bars, test fire and carbon monoxide detectors, and perform an overall evaluation of your loved home's home safety.
Sometimes, spring cleaning can reveal that your loved one is struggling with their current living conditions. If you feel that your loved one may benefit from in home senior care, give your local Visiting Angels a call. We'll be happy to discuss your loved one's senior care options.
If you're interested in our compassionate
home care
services for you or a loved one, contact your nearest Visiting Angels
home care agency
today or call 800-365-4189.