Veterans Helping Veterans through Home Care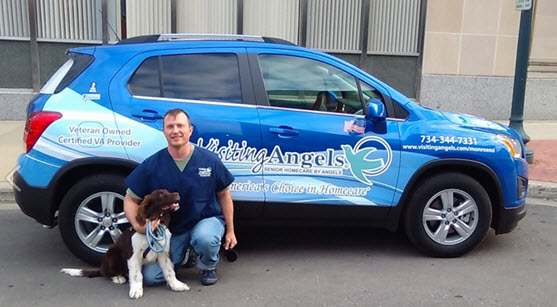 Every November, Americans across this country salute and pay tribute to the veterans of our nation's armed forces. But for some, giving back to American veterans is a way of life. That's especially true for Will Bruck, owner of Visiting Angels Monroe County in Michigan. A veteran himself, Will is now a committed advocate for veteran home care.
"My passion is veterans, taking care of veterans," Will says.
With over 20 million American veterans living today, many of them seniors, the demand for veteran home care is growing. That's where people like Will have come in, helping older veterans get the care they need in the setting where they feel most secure and comfortable.
"It Creates a Bond"
A CW3 officer in the US Army Reserves, Will has over two decades of military service and three tours of duty to his name. After opening his home care agency in 2013, Will noticed something about the demographics in his area — more than half of the seniors his agency was serving were veterans or married to veterans.
As a veteran himself, Will was able to connect with former service members and their spouses in a way that he believes would not be possible without his service background. "It creates a bond. Nothing else can connect that well," he explains.
It's because of that bond that Will believes his agency's veteran home care services are so valued by veterans and veterans' families in the Monroe County area.
"I'll go to family's homes and I'll talk to their mom or dad, and afterward, the children will say, 'I've never heard dad say that stuff.' It opens up a whole new door, and they realize 'This is the company I need to go with.'"
Focus on Veteran Home Care
In the years since, Will has made veteran home care a core focus of his agency. One of the biggest steps toward this was becoming contracted with the local Veterans Affairs hospital, which Will says was "hard to do, but something I wanted to do as a vet."
"Being with the VA hospital, that's been huge for us. It bolsters our reputation. It bolsters our ability to say, 'We take care of vets. Nobody does vets like we do.'"
Recently, Will has begun to help other Visiting Angels owners become contracted through VA hospitals in their service areas.
Will says that most of the veterans cared for by his agency either served in WWII or the Korean War. But in the coming years, Will expects to see more and more Vietnam veterans who require veteran home care and support. When that happens, Will and his team will be there.
"You're helping people stay home, which is a good goal. It's a good thing. What I've found out, the longer we've been in here, we're not just helping one person, we're helping a whole family of people."
If you or a family member require veteran home care, Visiting Angels can help. Call us today to connect with your local Visiting Angels agency. You can also find more information about U.S. Armed Forces Pension and Survivor Pension benefits programs here.
If you're interested in our compassionate
home care
services for you or a loved one, contact your nearest Visiting Angels
home care agency
today or call 800-365-4189.