What are the Signs of Depression in Seniors?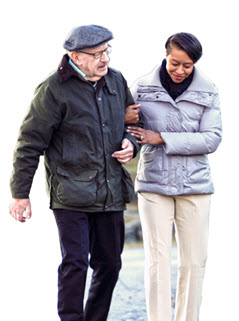 Has your parent lost interest in favorite activities? Does your mother no longer take care of her appearance? Is your father suddenly irritable? Are there constant complaints of pain? If you answered yes to any of these questions, your loved one might be suffering from depression.
Depression is fairly common in the elderly. Six and a half million adults 65 and older suffer from depression, according to the National Alliance on Mental Health. While many seniors are reluctant to talk about feelings of depression, it's important for family members and caregivers to be on the lookout for signs and to understand the causes of depression in seniors.
Common signs of depression in seniors can include:
Memory problems
Vague or nonspecific complaints of pain
Inability to sleep
Irritability
Withdrawal from social situations
Weight loss and/or loss of appetite
Confusion
If you see any of these symptoms in your loved one, ask their health care professional about the possibility they could be suffering from depression. Their doctor can ask specific questions to diagnosis depression or other illnesses that may have similar symptoms.
It's not uncommon for seniors to become depressed
The senior years are a time of great change and those changes can trigger bouts of depression. One reason seniors often become depressed is because of declining health. Illnesses with chronic pain or physical disability can trigger depression. Seniors with stroke, cancer, diabetes, multiple sclerosis, Parkinson's, heart disease, or lupus are at risk for depression.
Seniors who live alone are often at risk for depression. Feelings of isolation and a loss purpose can trigger depression. After having a full life with work, family and volunteer responsibilities, the senior years can seem comparatively quiet. Without an outlet, many seniors begin to wonder what it's all been for. You can help your senior stay busy by keeping them engaged with activities. Visiting Angels elder care providers can help your loved one get to activities and become engaged with groups to encourage a sense of purpose.
Of course, feelings of loss are often a trigger for depression. If your loved one has lost a spouse, close friend or pet, they could be at risk for depression. Keep a close eye on them and keep in contact with their physician if you have any concerns.
If you are worried about your loved one, we encourage you to talk with their health care professional. Only a doctor can properly diagnose depression and provide proven treatment options.
If you're interested in our compassionate
home care
services for you or a loved one, contact your nearest Visiting Angels
home care agency
today or call 800-365-4189.