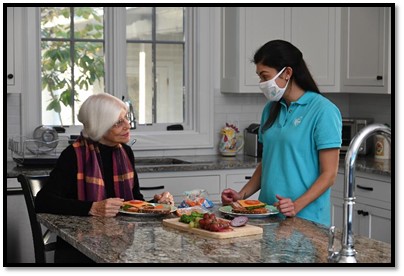 How Visiting Angels Knoxville helps clients recover after a hospital stay
Recovering from a hospital stay is a challenging transition, especially for seniors and their family caregivers. There are often many instructions, and it can be a challenge to absorb those in a hospital setting while your feelings are still swirling around having seen your loved one through a surgery, illness, or medical procedure.
Often family caregivers, though they are sincerely trying to do their best, are sleep deprived and spent after having been at the bedside of their loved one during a period spent in the hospital. It's challenging to listen to medical staff, ask the right questions, and anticipate what might come up during the recovery process.
It can be a tremendous source of relief and assistance to tag in a professional caregiver to help transition from hospital to home. Visiting Angels Knoxville joins you right there in the hospital.
Even when family members have the best intentions, providing follow-up care to their loved ones after a hospital stay is challenging. Here's how Visiting Angels help through our Ready-Set-Go Home program.
The challenge of recovery
Recovering from a hospital stay is hard work. The complexity of following doctor's orders can make it even more challenging. Debra Woods, RN, writes: "Three recent studies have showcased the need for greater patient engagement and adherence to a patient's plan of care and offered suggestions for care providers. All reported that not following plans of care resulted in readmissions; something hospitals are working to reduce."
While it is understandable to struggle to understand and implement the doctors' orders fully, it sets you and your loved one up for greater success to have a plan and the support you need to navigate this challenge.
At the hospital
When you chose the Ready-Set-Go Home program, a professional Visiting Angels caregiver will help guide your family through the discharge process and think through your discharge planning. We give you the guide that we've refined by being present for scores of discharges. It includes details and facts you need to make your plans; plus questions you can ask doctors and nurses. The guide also has tips for how to reduce hospital readmission risks.
In-home post-hospital care
Providing post-hospital care can be challenging for a family caregiver. There are orders and instructions to follow, and there is a lot of work to do. This can be incredibly challenging if the family caregiver is also a senior. Our caregivers have a good sense of how this is supposed to go, and we also understand how it can sometimes derail.
Sometimes clients don't want to take their medications or come in for their follow-up visits. Sometimes they think they can do more at a faster rate than is right for them. Sometimes family caregivers get overwhelmed. We've seen all of that, and we get it! We're not coming into judge. We're here to support and to lend our expertise to the situation. We know that the best thing you can do to heal and to avoid readmittance is to follow the doctors' orders, and we're ready to help.
We've got your back and they've got ours
Visiting Angels of Knoxville's home office supports our caregivers' work. If our caregivers are concerned that a client is struggling in recovery, they will let the office know. If there's an issue around getting food, medicine, and supplies delivered, the office can make that happen. If out-of-town family members need an update, our office staff will ensure they are looped in.
We also offer respite care so that if a family caregiver needs to take some time to recharge from helping a loved one deal with the experience of the hospitalization, we can take over and extend the opportunity for that breakthrough in our Respite Care Program.
Our approach is practiced, professional, and refined. Recovering from a hospital stay takes a lot of physical, mental, and spiritual energy from the whole family. Use yours for healing and let Visiting Angels Knoxville do the heavy lifting. Contact us online or call us at 865-531-4833.