Prevent Wandering with Dementia Care Services in La Jolla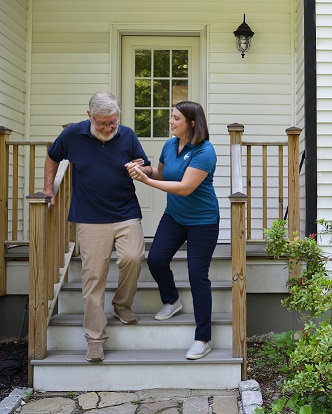 With our trusted dementia care services, Visiting Angels® La Jolla can help to prevent wandering and provide your loved one with a safer and more comfortable life. Wandering is a serious issue that can impact seniors with dementia. It refers to their tendency to get confused and wander away from loved ones due to the inability to recognize familiar faces and environments. To combat this issue, you need to set up a support plan. With our customized care and friendly support, we are eager to help.
We offer a wide variety of care duties, depending on the needs of your loved one. Our care providers can help with basic chores, memory assistance, personal care, mobility, and much more. Everything we do is done with the goal of keeping your relative in their own home, where they can enjoy comfort, privacy, and peace as they cope with their disorder.
To begin, let's cover some of the potential warning signs that indicate your loved one is at risk of wandering.
Warning Signs of Wandering
Some potential signs of wandering include:
Time Confusion. You may hear your loved one asking about deceased relatives as if they are still alive. They may also talk about past obligations, such as their career as if they were still current.
Disorientation. Those suffering from dementia will often ask to 'go home' even when they are at home. You may also notice them having difficulty finding areas of the house. They also may take longer than usual to complete basic activities.
Anxiety. They may become stressed and scared when out in a crowded public place. Look for restless and repetitive movements.
Rely On Our Dementia Care Services for Your Loved One in La Jolla
With flexible scheduling and warm, loving care from our team of caregivers, your loved one will have all the help they need to extend their home life. We take pride in helping local seniors and their families live easier and less stressful lives. Our caregivers can be there as often as you require, providing stable support and friendly companionship, so your loved one never has to be alone.
We look forward to meeting with you during our free initial care consultation to learn about your needs in great detail and work together to set up the right care plan for your loved one. Our service area includes:
La Jolla
University City
Pacific Beach
Bay Park
and the surrounding areas
To get started with our our dementia care, contact Visiting Angels La Jolla and arrange your free care consultation today.