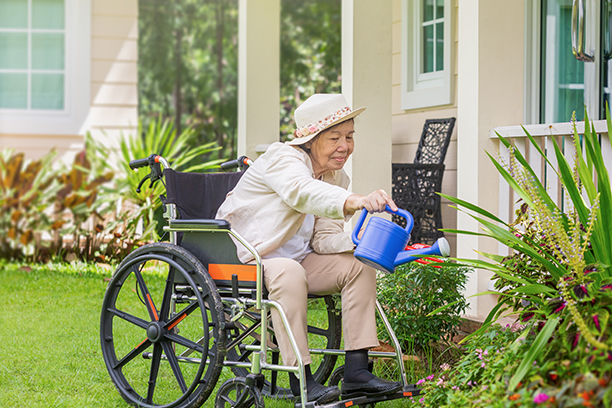 Visiting Angels' Home Care Providers Offer In Home Assistance for Alzheimer's Disease Throughout Gilford, NH and Nearby Communities
Visiting Angels Home Care Provides and Professional Tips on Caring for Someone with Alzheimer's in Gilford, NH and Surrounding Areas
If your loved one has Alzheimer's disease, our caregivers at Visiting Angels in Gilford, NH, are here to help them with our senior care services. This illness affects over 5 million Americans, according to the Alzheimer's Foundation of America. Visiting Angels home care is here to not only share our knowledge about this disease but to help seniors receive the comfort and respect they deserve.
Alzheimer's Disease
Alzheimer's disease currently has no cure. It is a fatal brain disease that progressively affects abilities to reason, think and affects memory. The disease is gradual but continuous in its decline. To help you understand the disease more, here are some warning signs to look out for when a family member ages.
These daily tasks or activities may become complex or challenging to complete or understand:
Problem Solving

Planning

Speaking

Writing

Understanding Visual Images

Keeping Track of Items

Retracing Steps

Understanding Time and Space

Spatial Relationships
Memory loss as well as personality changes, and mood swings will begin to happen as well. These challenges can result in removing oneself from social activities and increasing the risk of poor decision-making and judgment calls.
If your loved one has Alzheimer's, the best step you can take is to learn more about the disease. Handle financial and legal matters such as end-of-life care ahead of time, build a support system, and exposing seniors to cognitive stimulation to slow the effects and boost thinking skills. On top of these, finding professional home care assistance for your loved one is essential.
Visiting Angels Home Care
Visiting Angels of Gilford, NH, provides dependable at-home care to keep your loved ones comfortable in their home while providing them with the care they need. Visiting Angels home care is here to help. We are here to help your loved one right away. See how our services at Visiting Angels of Gilford, NH, can make a difference in your senior's life. Schedule a consultation and let us know how we can help.
Serving the Lakes Region of New Hampshire and surrounding towns
Visiting Angels
LAKES REGION, NH
401 Gilford Ave #208
Gilford, NH 03249
Phone: 603-366-1993