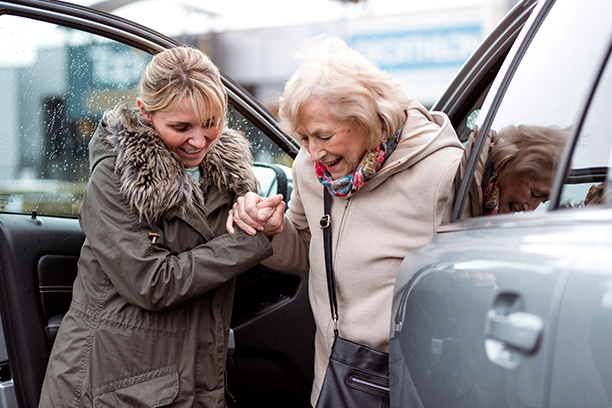 Visiting Angels' Home Care Providers Offer In Home Assistance for Alzheimer's Disease Throughout Gilford, NH and Nearby Communities
Do You Have A Loved One in Gilford or Nearby Area Who Needs In Home Assistance for Alzheimer's? Visiting Angels' Home Care Can Help!
When a loved one receives an Alzheimer's diagnosis, it can be a shock to an entire family that leaves them feeling very alone. But, the reality of the situation is that there are more people dealing with this illness than you think. According to the Alzheimer's Foundation of America, there are over 5 million people across the nation who are dealing with this disease.
Alzheimer's, a fatal brain disease, causes a gradual decline of memory, thinking, and reasoning skills. Currently, there isn't a cure for this illness but there are treatments and therapies available in order to improve the quality of life of those dealing with the disease. This will also slow down the progression of the disease as well. If you suspect that your loved one hand Alzheimer's then you should get them to a physician as soon as possible. The sooner the diagnosis, the sooner that Visiting Angels' home care can come in to offer in home assistance.
Look Out for These 10 Alzheimer's Disease Warning Signs
Problem-solving or planning challenges

Memory loss

Familiar tasks are now difficult

Spatial relationships and visual images are hard to understand

Time and space confusion

Misplaced items and inability to retrace steps

Personality changes and mood swings

Withdrawal from social activities

Speaking and writing words both become difficult

Poor judgment calls and decision making
Steps to Take If Your Loved One Has Alzheimer's
With Alzheimer's these warning signs gradually become more prevalent with time. After your loved one gets diagnosed, it's important to be proactive when it comes to in home assistance. This will then improve you and your loved one's quality of life. Consider these helpful steps to follow after your loved one gets diagnosed.
Learn about Alzheimer's: The more you know; the more than you can help your loved one deal with this illness.
Arrange for professional respite and in-home care: In order to suppress the anxiety around routines, it's important to bring in professional care. For example, Visiting Angels' home care provides compassionate and knowledgeable care for daily, weekly, overnight, or respite care.

Take care of financial and legal matters: discuss long-term in home assistance, and plan end-of-life care
Build a support system
Employ cognitive stimulation
If you have any questions, don't hesitate to give Visiting Angels' home care contact us at your earliest convenience.
Serving Lakes Region of New Hampshire and Surrounding Towns
Visiting Angels LAKES REGION, NEW HAMPSHIRE
401 Gilford Ave STE 208
Gilford, NH 03249
Phone: (603) 215-7103