Find Companion Care in San Diego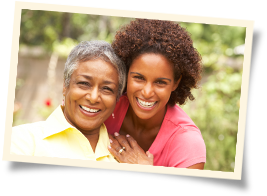 Visiting Angels® La Mesa provides top quality companion care for San Diego area seniors who may need some extra attention or help with daily life.
It's that time of year again when Americans begin to make a pilgrimage home for the holidays. For some of us, it's the first time in a long while we've had the opportunity to spend some real time with our aging parents or grandparents. It's also a good time to be on the lookout for clues that your loved one may be having some difficulties keeping up with things that used to be easy.
While any of these changes should be reported to your loved one's doctor, if there's no underlying medical reason, it's entirely possible they just need some in-home support.
Four Important Signs It May Be Time For Companion Care
Poor hygiene and/or incontinence. If your loved one appears disheveled, or you notice body odor or odors related to incontinence, these are definite signs your loved one is struggling. They may be afraid of falling and perhaps avoiding the shower, having difficulty standing or sitting, or beginning to lose the ability to recognize when they need to use the bathroom.
Clutter in the home. For those who were already clutter bugs, this can be a difficult sign to spot. But obviously, if your loved one was once fastidious, but now you notice dirty dishes or food particles left on the counters, you know something is off.
Extreme Weight Changes. This is an alarming sign, especially if it's weight loss. It's definitely something that needs to be shared with their doctor, but it could also be as simple as your loved one has stopped eating because they don't have the energy to shop for and prepare food.
Medication & Medical Mix-Ups. Do you notice if your loved one is missing taking their medications or worse yet, missing doctor visits altogether? Could it be that their memory is suffering or were they avoiding it because they were just too overwhelmed trying to handle it on their own?
Loneliness. Does your loved one seem lonely? It may be hard to tell because at the moment, you are there, and they seem happy. Ask them what a typical day is like for them when you are not there. Are they interacting with other people or spending most of their time alone? If the latter, they could very well be suffering from loneliness and depression due to social isolation. Just having someone to chat with a bit every day can make a world of difference.
About Our Companion Care in San Diego
Our in-home care for San Diego area seniors is designed to provide a safe, flexible, in-home solution for your loved one. Our fully-vetted, caring, and compassionate caregivers are available at all days and hours to provide conversation and companionship in the comfort of their home. Caregivers can also accompany your loved one to local appointments or activities.
We personalize all our services, so if you need only companion care, that's what we'll do. However, you'll have our entire array of in-home services available to you, should you need it. We can provide a full range of home care options for the San Diego area, including:
Companion Care
Personal Care
Palliative Care
Social Care
Ready-Set-Go Home
Dementia Care
Safe & Steady Fall Prevention Program
Alzheimer's Care
Respite Care
End of Life Care
Long Distance Caregiving
As a locally owned business, we take great pride in serving our senior neighbors in:
San Diego
La Mesa
Lemon Grove
And the surrounding community
To learn more about our companion care in San Diego and how we can help your aging loved one continue living safely at home, please reach out and call Visiting Angels La Mesa today.