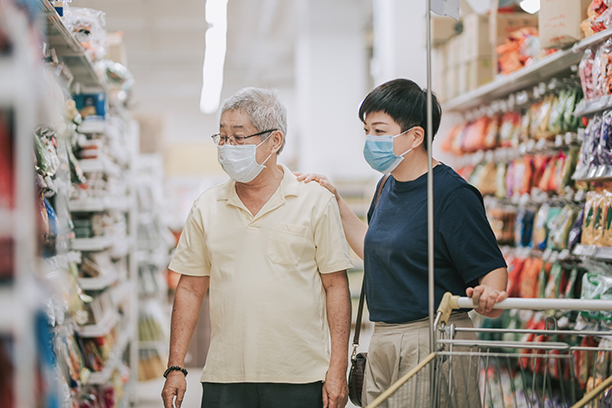 Visiting Angels of Lancaster, PA Helps Seniors Manage Their Alzheimer's Symptoms
Explore Alzheimer's Care with Visiting Angels of Lancaster, PA
An Alzheimer's diagnosis can be devastating for a family. Alzheimer's is a terminal condition characterized by memory loss, cognitive decline, and behavioral changes. It is degenerative and progressive which means it causes deterioration and symptoms worsen over time. Most people live four to eight years after diagnosis. In its later stages, the disease can have a severe impact on doing daily activities. It is the sixth leading cause of death in the U.S. and approximately 5.5 million Americans live with the disease. Caring for a loved one with Alzheimer's can be extremely difficult. Alzheimer's care from Visiting Angels of Lancaster, PA can ease the burden as the disease progresses.
Look for these Warning Signs:
Disruptive memory loss affecting daily life

Misplacing items

Decreased ability to make decisions

Decreased ability to plan ahead

Difficulty understanding visual images

New or worsening problems

New or worsening confusion about time and place

Difficulty completing familiar tasks

Withdrawal from social activities or interpersonal interactions

Changes in personality or mood
If your loved one displays these symptoms, you should seek medical guidance from your loved one's physician. Basic forgetfulness can be part of the normal aging process, but with Alzheimer's, these symptoms gradually increase and become more severe with time.
Seek Alzheimer's Support
Be proactive in making decisions about Alzheimer's care. Follow a few basic steps to help manage the disease:
Educate yourself about Alzheimer's; the more you know, the more you can prepare.

The Alzheimer's Foundation of America

and

Alzheimer's Association

are great resources.

Arrange for respite care. As the primary caregiver, you will eventually need help. Short breaks will let you rest and rejuvenate. To ease the transition, introduce a professional caregiver into the family during the early stages of Alzheimer's. As the disease progresses, it will be difficult and upsetting to change caregivers. When hiring caregivers, look for those with specific Alzheimer's care training and credentials, like Visiting Angels of Lancaster, PA.

Build a support system. The role of caregiver can be stressful and overwhelming. Reach out to family and friends for help and make time to maintain your own physical and mental health. Also, many hospitals and departments of aging offer free support groups. Sites like the

National Family Caregivers Association

and

Caring.com

can help you find support.

Consult professionals to take care of financial, legal, and long-term care issues.

Use cognitive stimulation. Listening to music and doing word puzzles and memory games can provide a positive experience for both the patient and caregivers.
Learn More About Caring for a Loved One with Alzheimer's Disease
To learn more about Alzheimer's care with Visiting Angels of Lancaster, PA, contact our office at 717-696-0167 to schedule a free, in-home consultation.
Serving Lancaster, Lititz, Gap, Bainbridge, Elizabethtown, PA, and the Surrounding Area
Visiting Angels
LANCASTER, PENNSYLVANIA
1821 Oregon Pk #201
Lancaster, PA 17601
Phone: 717-393-3450
Fax: 717-509-8384