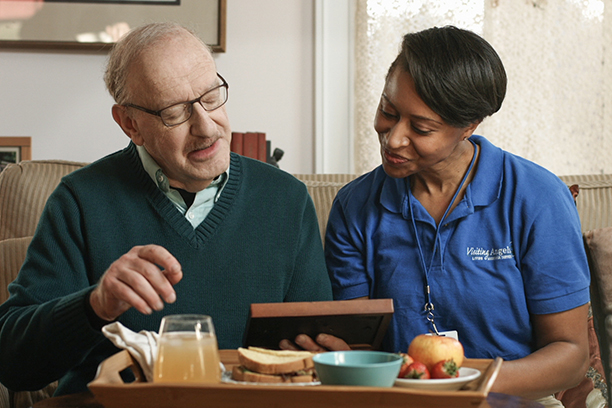 Questions About Our At Home Care Services in Greater Lancaster, PA
While our at-home care providers are available by phone to answer any questions you may have about our senior care services, we also have some of the answers to our most commonly asked questions below.
Frequently Asked Questions About Visiting Angles' At-Home Care in Lancaster, Gap, Bainbridge, Elizabethtown, and Surrounding Areas
Q. What types of one-on-one care services do you offer?
A. Visiting Angels of Lancaster's at-home care services are designed to provide our elderly clients with the assistance they need to be able to continue living independently at home. Among the many services we offer are light housekeeping, bathing and grooming assistance, medication and hydration reminders, running errands, fall prevention, and many others.
Q. What is "aging in place?"
A. Aging in place means that seniors can continue living independently in their own homes instead of at an assisted living facility or nursing home. At Visiting Angels of Lancaster, we offer a comprehensive range of services designed to make remaining independent at home a possibility.
Q. Does Visiting Angels of Lancaster offer care services in assisted living facilities?
A. Yes. Many people find the services provided in senior care facilities are not enough to allow their loved ones to continue living independently. When this situation occurs, Visiting Angels of Lancaster can provide an experienced caregiver to supplement the care offered by the facility. In many states, you are permitted to hire an essential care service to provide care in both assisted living facilities and nursing homes.
Q. Once contacted, when can care start?
A. Typically, Visiting Angels of Lancaster's at-home care can start providing the services your loved one needs within 48 hours. In certain instances, we start on the day of contact.
Q. Is the care schedule flexible?
A. One of the great things about Visiting Angels of Lancaster's at-home care services is that they are designed to be flexible based on your family's needs, not ours. We believe that your needs always come first. We will create a care plan that revolves around your loved ones' needs, schedule, and budget, and is here to adjust plans if need be.
Q. How do I get started with Visiting Angels of Lancaster?
A. To get started with Visiting Angels of Lancaster, contact our office by clicking one of the buttons below. We will schedule a free, in-home assessment with one of our care coordinators. We will then assist you in creating a unique care plan that revolves around your loved one's specific needs.
If you have further questions, our team is here to help! Call us today to learn more!


Serving Lancaster, Lititz, Gap, Bainbridge, Elizabethtown, PA, and the Surrounding Area
Visiting Angels
LANCASTER, PA
1821 Oregon Pk #201
Lancaster, PA 17601
Phone: 717-393-3450
Fax: 717-509-8384