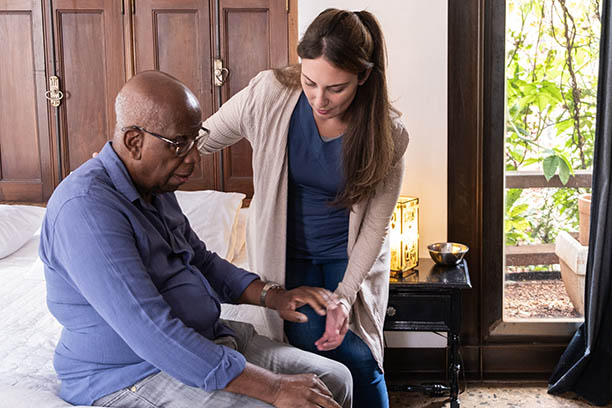 Certified Palliative Care Throughout Largo, Upper Marlboro, MD, and Neighboring Communities
Visiting Angels Provides Palliative Care to Seniors in Largo, Upper Marlboro, Fort Washington, and Nearby Cities in Prince George's County

At Visiting Angels of Largo, we help improve your loved one's quality of life with our Certified Palliative Care. With a focus on all their needs, emotional, physical, and spiritual, we offer a program that goes beyond the traditional scope of care. Regardless of life expectancy, our friendly and skilled
home care aides
provide comfort and assistance to all our senior clients.
Though people interchange the terms "hospice care" and "palliative care," the truth is that these approaches to care are quite different. Indeed, they do have several similarities, their mission being to improve the quality of life and relieve discomfort. Hospice care, however, is usually reserved for individuals who are nearing the end of their life. Holistic care, on the other hand, is for anyone who requires care that centers on their well-being and comfort, regardless of how long they are expected to live.
One-on-One Care Programs That Focus on Your Needs
Armed with a philosophy of senior care that is comforting, soothing, and supportive, our care program trains care providers to approach senior care with a holistic mindset, as well as a mission of assisting with healing and restoring hope. We do this by:
Addressing a senior's physical nature by recognizing and responding to common signs, providing care to comfort our elders.
Approaching an elder's emotional needs by utilizing a compassionate approach, thus supporting those who may suffer from anxiety, stress, loneliness, or depression.
Addressing an elder's social needs by building relationships with families and clients, giving seniors in our care the conversation and companionship they require.
Approaching a senior's spiritual needs by restoring hope in their lives, assisting them to find relief and comfort from age-related challenges and treating each person with respect and dignity.
The Benefits of Holistic Care
There are many benefits when opting for Certified Palliative Care from Visiting Angels of Largo:
Our focus in on your loved one's complete health AND happiness
We place your loved one's health, goals, desires, and aspirations before anything else
Our agency can work with medical teams so we can ensure your loved one is receiving complete care for all their needs
While the medical professionals focus on treatment, we can focus on reducing discomfort and managing symptoms
We help reduce hospital visits by helping seniors with chronic conditions manage their needs

Schedule Your Free, In-Home Assessment
Have more questions about our essential senior care and how it can help your aging loved one in Largo, Upper Marlboro, Fort Washington, or a nearby city in Prince George's County? Contact Visiting Angels of Largo today to learn more about our Certified Palliative Care and to schedule a free, in-home assessment with one of our care coordinators!

Serving Largo, Upper Marlboro, Fort Washington, and Nearby Cities in Prince George's County
Visiting Angels
LARGO, MD
9701 Apollo Dr #300
Largo, MD 20774
Phone: 301-583-8820
Fax: 301-809-9003